2012 Atlantic Hurricane Season Birdseye Discussion #30A (Special Update)
...JUNE 18 2012...1:39 AM EDT...
This partial discussion is issued as a special update concerning the special feature of full discussion #30 which has recently become better organized NE of Bermuda...and has been upgraded to Invest 95-L by the Naval Research Laboratory (NRL) of the United States Navy. This special update is also issued for a possible tropical disturbance developing in the eastern Caribbean Sea. The possible disturbance in the eastern Caribbean should not be confused with the tropical system expected to reach the Bay of Campeche by June 20 (as discussed in paragraph P11 of discussion #30).

Figure 1 below is the lastest analysis of Invest 95-L. Unlike during full discussion #30 (special features section)...the most recent ASCAT pass cyclonic surface winds now matches the position of the LLC (low-level center) seen on satellite imagery. Despite tracking NE toward increasingly cooler waters...the blue arrows drawn in Figure 1 below suggests upper divergence at the NE periphery of the upper vortex that has allowed t-storm activity to intensify on the west side of the LLC. The east side of the LLC remains covered in a dry slot which was discussed in full discussion #30 (special feature section). Given the better defined LLC and increase in t-storms...I think the chances for this to become a subtropical or tropical cyclone in the next 24 hours has gone up. Beyond 24 hours...its NE track will take it to even cooler waters less favored for development.



Figure 1: Latest analysis of Invest 95-L...formerly subtropical low that passed over Bermuda. Upper divergence illustrated with blue arrows is supporting the low pressure LLC at the surface.

In full discussion #30...paragraph P8...it was mentioned that the strongest storm activity in the Caribbean Sea was located towards Jamaica..E Cuba...Hispaniola...and Puerto Rico...where northerlies across the Caribbean upper ridge heavily diverged with westerlies from the upper trough/vortex associated with what is now Invest 95-L. The storm activity near Hispaniola and Puerto Rico has been so strong that latent heat release from the clouds has flared up a new upper ridge as illustrated in Figure 2 below. This new upper ridge is also being supported by warm air advection ahead of Invest 95-L's broad cyclonic flow as shown in Figure 2. This upper ridge has relaxed the westerly vertical shear over the area...and could be supportive for a new surface low to develop and track NE out of the Caribbean as illustrated in Figure 2. Of final note...a computer model scenario was briefly mentioned in old discussion #26 paragraph P6 where a tropical/subtropical cyclone would track NE out the Caribbean from June 18 to 20. This potential disturbance in the eastern Caribbean fits this scenario much better than Invest 95-L does.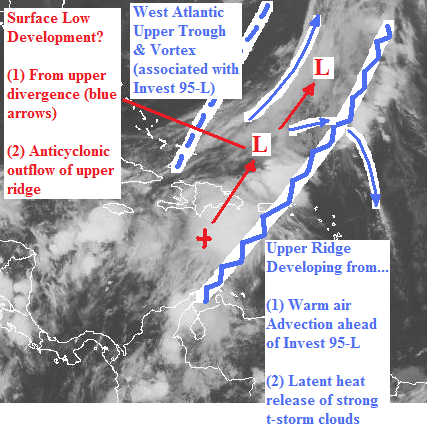 Figure 2: Possible Disturbance emerging from the eastern Caribbean Sea. Watch out for heavy rains in Puerto Rico and Hispaniola (Haiti and the Dominican Republic) as this possible disturbance tracks NE out of the Caribbean. The NE track would be supported by flow between Invest 95-L to the northwest and 1027 mb ridge south of the Azores (Azores ridge mentioned in previous discussion #30...paragraph P6).
Reader Comments
New Comment
Post Your Comments
Please sign in to post comments.
Not only will you be able to leave comments on this blog, but you'll also have the ability to upload and share your photos in our
Wunder Photos
section.
About NCHurricane2009
| | |
| --- | --- |
| | NCHurricane2009 doesn't have a bio yet. |
Tropical Blogs
Tropical Weather Stickers®
Previous Entries for 2013