2012 Atlantic Hurricane Season Birdseye Discussion #40
...JULY 2 2012...7:20 PM EDT...
Atlantic tropics remaining calm as the month of July begins.

...ATMOSPHERIC FEATURES BIRDSEYE CHART...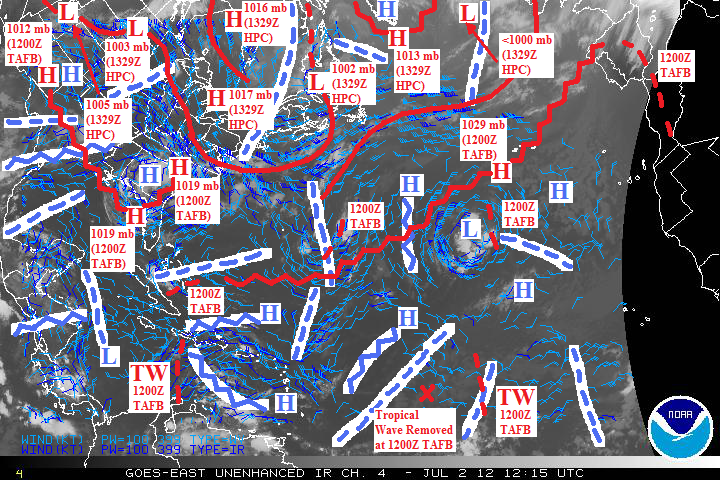 This chart is generated based on surface analysis from the National Hurricane Center TAFB at 0000Z, and the 0123Z-released HPC analysis.

In light blue is upper air analysis, with 200 mb wind barbs calculated by GOES satellite imagery showing the upper-level wind direction. Based on the 200 mb wind barbs, blue-dashed lines are locations of upper troughs, blue-zig-zag lines are locations of upper ridges. Blue Ls are locations of upper lows, blue Hs are locations of upper ridges.

In red is surface analysis, with solid lines indicating locations of surface fronts, dashed lines indicating locations of surface troughs, and zig-zag lines indicating surface ridge axes. Ls indicate surface lows, Hs indicate surface highs.

...THERMODYNAMICS BIRDSEYE CHART...


This chart is generated using GOES water vapor satellite imagery. Brown indicates dry air. White, blue, and purple indicates moist air. An increase in moisture indicates slower air parcel lapse rates with elevation and hence an increase toward instability.

Sea-surface temperatures are overlaid with light blue isotherms. The 26 deg C isotherm is highlighted in red. Waters at and south of the 26 deg C isotherm indicate low-level warmth and hence faster environmental lapse rates with elevation (more instability). Waters north of the 26 deg C isotherm indicate slower environmental lapse rates with elevation (less instability).

...MID-LATITUDES DISCUSSION...
P1...On the heels of the complex frontal system in paragraph P2 is the next one entering the picture from the western US...anchored by a 1003 mb center in the western Dakotas in the above birdseye charts. Warm air advection ahead of this frontal system supports an upper anticyclone centered over NE New Mexico.

P2...Complex frontal system covering the northwest half of the discussion area (eastern North America and northwestern Atlantic...paragraph P1 of discussion #39) persists. A less-than-1000 mb frontal cyclone and associated supporting upper trough is splitting eastward and heading toward Europe. A 1002 mb frontal cyclone and associated supporting upper trough is centered over eastern Canada. The remnant low of Debby is no longer distinguishable witing this complex frontal system. Surface 1016 mb ridge in the SE Gulf of Mexico is building northward in last 24 hours while supported by upper convergence on the back side of the upper troughing....including a 1019 mb center W of Florida...1019 mb center over the SE US...1017 mb center over the eastern Great Lakes...and 1016 mb center over SW Hudson Bay. Finally...Texas cut-off upper low stemming from this weather system several days ago has weakened to an inverted upper trough...and this system has delivered yet another cut-off upper trough moving SE across the western Atlantic and Bahamas.

P3...Upper ridge over the western Atlantic and south Greenland remains split in three areas by mass cool air advection behind the complex frontal system in paragraph P2 above. The northern part is an upper anticyclone over south Greenland...the middle is an upper anticyclone in the open central Atlantic...and the southern has shifted southeast into the eastern Caribbean in advance of the cut-off upper trough mentioned at the very end of paragraph P2.

P4...Surface frontal cyclone that made landfall in Europe leaves behind a surface trough marked in the upper-right corner of the above charts. Cut-off upper vortex south of the Azores persists...splitting the open central Atlantic upper anticyclone (paragraph P3) into two anticyclones. Surface trough south of the Azores persists...today supported by split flow upper divergence between the NE edge of the upper vortex and NW edge of the eastern upper anticyclone. Finally...cut-off upper trough E of Bermuda persists...and its eastern divergence supports a surface trough marked on the 1200Z TAFB analysis. The SE Caribbean fragment of this cut-off upper trough has retrograded westward about the southermost upper anticyclone in paragraph P3...and into the central Caribbean.

P5...Open Atlantic surface ridge still has a strong center....which is now 1029 mb and SW of the Azores as of 1200Z TAFB. It will continue to weaken or hold steady strength as long as it remains vertically stacked with the less-convergent open central Atlantic upper anticyclone mentioned in paragraph P3.

...TROPICAL BELT DISCUSSION...
P6...Upper ridge in the western Gulf of Mexico persists...and has an upper anticyclonic center over the southeastern United States.

P7...Inverted upper trough over the Yucatan and southern Gulf of Mexico persists while retorgrading slowly west about the upper ridge in paragraph P6.

P8...Small upper ridge over the Panama area has shifted into Central America.

P9...Expansive east Atlantic upper ridge continues. In conjunction with the surface ridge in paragraph P5 and southernmost upper anticyclone in paragraph P2...deep-layered easterly flow exists across much of the Atlantic tropics that is advecting African desert dry air (brown shading in the above thermo birdseye chart) westward. Three inverted upper troughs on the south side of this east Atlantic upper ridge show up today...but not sure what caused them at this hour.

P10...Tropical wave crossing the Lesser Antilles in the previous discussion (formerly Invest 97-L) has continued across the eastern Caribbean Sea and is headed into the central Caribbean. It is about to become suppressed by central Caribbean upper vorticity mentioned at the very end of paragraph P4.

P11...A poorly-defined tropical wave midway between the Cape Verde Islands and the Lesser Antilles has been removed from today's 1200Z TAFB analysis as if it dissipated.

P12...Vigorous tropical wave over and south of the Cape Verde Islands in the previous discussion is now nearing the waters midway between the Cape Verdes and Lesser Antilles. This tropical wave is not nearly as impressive anymore while rolling into the dry air mentioned in paragraph P9.

P13...Although not yet in the scope of the above charts...the next strong tropical wave is about to enter the tropical waters of the Atlantic from western Africa. If the tropical wave in paragraph P12 is a good analogue...this tropical wave should not develop either.
No reader comments have been posted for this blog entry yet.
New Comment
Post Your Comments
Please sign in to post comments.
Not only will you be able to leave comments on this blog, but you'll also have the ability to upload and share your photos in our
Wunder Photos
section.
About NCHurricane2009
| | |
| --- | --- |
| | NCHurricane2009 doesn't have a bio yet. |
Tropical Blogs
Tropical Weather Stickers®
Previous Entries for 2013