A pause in Spring weather...
"Afternoon Thoughts" (Updated 4/5)
I have been staring at a lonesome sign for many years along the outskirts of my neighborhood at the base of the mountain. The sign reads: COMING SOON AUTUMN OAKS RESIDENTIAL DEVELOPMENT. Existing currently in the foothills of the mountain are already many neighborhoods including mine along with woods and farm fields. A soy bean farm sits east of my neighborhood where one of the signs takes residence. The wind burnt and wood chipped signs covered in weed grasses along the posts seemed to pose little threat to the wildlife and atmosphere of the surrounding community until the threat became a reality. We received a notice in our mailboxes from a few of our neighborhood leaders that this building company finally decided to try to move in and destroy the nearby farm field and destroy acres and acres of woods while building up the mountain. With many of us being concerned, we took up opposition at the township meeting. This being small town residents against a big named builder, it seemed like a worthless fight. But after some media recognition, our story grew with the fight to preserve the nearby land. Meetings were held at the township building and by those old, crooked wooden signs. While us few citizens could hold back the entire plan, we did get a few criteria that we definitely needed to have met from the builder. Now here I stand looking once again at one of the two lonesome signs. But instead of a beautiful vast and lush farm field behind it, I see a drab brown dirt pile followed by those atrocious black vinyl construction fence dividers. While it seemed like the reality would never be reached, it was inevitable. Our once serene and quiet neighborhood tucked along the mountain, would be met with more homes which is the last thing we need. While to me it seems foolish to build homes along the floodplain farm field, up the steep 1200ft mountain, and through the poor economy and housing market; the only thing the building company sees is the dollar sign. While yes we could have just sat there knowing there was nothing to do being small citizens. But everyone needs to feel their obligation to do something about it, instead of sitting reading the newspaper and complaining. This over construction of these multi-million shopping centers, terrible cliché strip malls, and condominiums seem to just be littering the once farm field and woods region of the Harrisburg area. While yes the construction and industrialization of a suburb is a sign of a healthy community, there needs to be standards. So now here I sit, looking out through the bay window at the mysterious mountain landscape, and wondering what will the future hold for the ever-changing landscape. But know I know thanks to the actions of a few in the past, the woods and hawk migration area will be preserved at the top and along the sides courtesy of a new state park, Boyd Big Tree Conservation Area. Everyone can make a difference and with the upcoming 2009 Earth day, I suggest everyone do their part.

"Regional Radar"


(Courtesy of NOAA)

"Regional Satellite"


(Courtesy of Penn State Meteo.)

"Regional Advisories"


(Courtesy of NOAA)

"Forecast Discussion" (Updated 4/5)
Low pressure moving northeast from the Ohio Valley will begin to track across western Pennsylvania. The 992mb low will track near Bradford drawing along a cold front with a warm front to the east. A weak secondary low will from along the warm front across southern Pennsylvania near the Delmarva region. This triple point low will allow the warm sector to seek into southern and eastern Pennsylvania. This may allow for some early to mid morning heating to occur in this region allowing some elevated and surface instability to form. The strong southerly winds will create high shear values near 60knots aloft creating the potential for damaging winds and even an isolated tornado especially to our south. See more in the severe weather section. As the cold front marches through Monday thunderstorms will occur in many locations as elevated instability will enhance convection. These low topped and high inversion thunderstorms will be capable of intense lightning and thunder in some spots courtesy of the high positive CTG strikes that are move commmon in elevated thunderstorms. PWATs will rise to near 1.1inches making for some heavy rain as the front pulls through. QPF totals will be near .5inches in many areas with isolated totals of around 1inch. The low will bottom out around 980mb and become cutoff near the St. Lawrence Seaway along the upstate NY/Canada border. H85s will be crashing towards Monday night under a northwest flow with heights near -4C. Wrap around moisture under a northwest lake influence and enhancement will help create snow showers and rain showers across the state. A tight baraclonic flow will also help to create sub-wind advisory type wind gusts in the 30-40mph range for late Monday and Tuesday. The northwest flow will last until late Wednesday under unseasonably cold air under a deep trough with 850s near -10C near Erie, PA. ModerateT to heavy lake effect snow accumulations may occur in some areas. See more details about snow in winter storm watch section below. Things clear out for Thursday before a weak wave under an easterly flow keeps some light rain Thursday night with QPF below .1inches. Low ceilings near 800ft and 1-3mile vis. fog will also accompany the light rain and drizzle. A lull between systems is possible Friday before a strong low heads up through the Ohio Valley and approaches for the weekend. Some timing issues are likely with systems late in the week.

"Current Surface Map and Weekly History of Jet Stream Position"


(Courtesy of Weather Underground)

"Weekly Forecast" (Updated 4/5)
Monday- A MCS complex associated with a cold front and strong low pressure will be weakening, but moving across Pennsylvania Monday morning. Rainfall Monday will be associated with the rain from the frontal band which will generally be around a half an inch, but up to an inch for some locations. Isolated urban, farm field, and small stream flooding will be possible in some select locations. Some morning peaks of sunshine along the I-95 corridor could spark some reintensification of the thunderstorm complex by late morning Monday and early afternoon. A few strong thunderstorms cannot be ruled out for far eastern and southern areas. Winds will turn northwesterly behind the front with gusts in the 30-40mph range with a few isolated gusts near 50mph along the ridge tops. As colder air moves into the state, rain will change from west to east as some wrap around moisture moves in across the state. Precipitation amounts will be light. High temperatures will be met ahead of the front in the 50s and 60s falling into the 30s by late afternoon and evening. Monday night will feature wrap-around snow showers for most areas in the central and western third of the state. Snow accumulations will be around 1inch in the valley and 2-4inches in the mountains particularily the western facing slopes. Lows will generally be in the upper 20s to the mid 30s with windchills in the teens thanks to 30mph howling winds.

Tuesday- A continued northwest flow will dominate the weather. Lake enhancement and a cut-off low will cause widespread overcast skies and mountain snow showers with rain/snow showers over the east being more intermittent. Snow accumulations will be limited for elevations over 2000ft for western and northern areas with accumulations only around 1-2inches generally limited to the grass. Winds will continue to be gusty in the 30-40mph range. Some low cloud ceilings are possible in the northwest with dense fog on the ridgetops. High temperatures will be near 10-15degrees below normal with them in the 30s and low 40s. Tuesday night will feature pure lake effect snow with intense bands possible in the northwest with snow accumulations in the snowbelts of 3-5inches. Outside the snowbelts a coating to one inch of snow is possible. East of the Blue ridge only a few scattered snow showers are possible. Cloud cover will persist through the night keeping temperatures from dropping off too much. Lows will generally be in the upper 20s to mid 30s.

Wednesday- The lake effect and northwest flow will begin to dwindle. Downsloping will clear out eastern areas from the clouds giving way to sunshine. But the mountains and western areas will be continued with stratus clouds and occasional snow showers. No additional snow accumulations will occur for all locations. Winds will also begin to calm with only breezy conditions expected with 10-15mph gusts. As the day progresses conditions will get better from east to west. High temperatures will be again well below normal for early April standards and be in the upper 30s for western areas to mid 40s for the east. It will definitely feel like winter once again. Wednesday night will feature partly to mostly cloudy skies with some light northwest 5mph winds. This will limit frost development even through temperatures will likely drop below freezing statewide excluding the Philadelphia metro region.

Thursday- A lull between systems will keep generally sunny to partly cloudy skies statewide with light winds shifting to the east. The day will generally be nice with temperatures rising closer to normal with highs in the 50s and low 60s. But a weak shortwave approaches later in the day with a bit of light rain and drizzle. A marine layer under the easterly flow will likely development towards Thursday night with low cloud ceilings near 700-800ft and 1-3mile visibility fog with possible .5mile fog near Philadelphia. Conditions will be slightly better across western areas. Lows will be mild thanks to the easterly flow and cloud cover with lows generally in the 40s to low 50s.

Friday- A bit of questionable timing exists as another low pressure heads up through the Great Lakes with a trailing cold front. At this time it appears rain develops from west to east by late morning under a moist southerly flow. Rainfall looks to be a nice soaking .5-1inch rainfall for the total event with the height of the rainfall late afternoon and early evening. Highs will be in the 50s and low 60s. An isolated thunderstorm is also possible over the southeast region towards evening. Friday night will feature the frontal rain band returning the flow too a cooler and more northwesterly regime pattern for the weekend. Lows Friday night will be in the 30s and 40s.

"Wildfire Outlook" (Updated 4/5)
Some brief wildfire criteria will be met today, Sunday. Low RH values near 20-30% combined with some 10-15mph breezes will help some minimal criteria for wildfire to development. But with ample soil moisture from the recent rains and lush vegetation beginning to bloom, this will help to keep a hold on any natural fire development. This week will feature a general northwest flow through Wednesday which will keep a strato-cumulus deck generally over the entire state. Also temperatures will be well below normal along with instability rain and snow showers. The fire threat is very low this week. By Thursday an easterly flow will develop along with a marine layer keeping again high RH values and ample moisture with light rain and drizzle. By next weekend another storm system is poised to move into the state with more moderate to heavy periods of rain. The short-term drought is being quickly eaten away by these beneficial rains, but the long term drought is still there with a nearly -5inch anomaly for the year for many areas. But again that is being taken chunk by chunk away each rainfall. I still think the general theme of the summer will be drier than normal once this active spring weather pattern ceases. My summer outlook looks to debut either next weekend or possibly the weekend after. Also my Earth Day blog will be posted the 22nd. The latest drought monitor from NOAA CPC is showing some moderate criteria being met for some southern areas, but improvement is on the way. Hopefully we can take in this stratiform rainfall before we rely on the unreliable summer time convection.

Here again are the fire criteria for development in Pennsylvania... Link.

Criteria for rapid initiation and spread of wildfires in PA:

1. Winds must be sustained at 15 mph (13 knots) for two hours or more, and

2. Minimum Relative Humidities (which usually occur in the afternoon) must be 30 percent or less, and

3. 10-hour Fuel Moistures must be 15 percent or less (and expected to remain there for two or more days).

"Fire Outlooks from Storm Prediction Center Days 1, 2, and 3"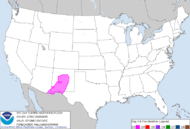 (Courtesy of NOAA)

"Gardening Outlook" (Updated 4/5)
What a beautiful day it is outside this Sunday. The sun is shining and the temperature is in the upper 60s. And o yes those horrible winds have ceased. I did do quite of a bit of outdoor work this morning and afternoon including the first mowing of the lawn and fertilizing. Also I took out all of the garden statues and decorations and such including my rain barrel which I did hook up. And yes, my weekend would not be complete without a trip to the flower nursery for more vegetables. Groundhog sighting have been limited to one time this week with no damage to anything. My Spring Onions are really coming up with about five rows of 20 sets. The Garlic has been the quickest growing with about 15 cloves planted. The sprouts are about 3-4inches tall. I did plant prematurely some radish seeds just yesterday as the soil in my raised boxes is always warmer than ground soil thanks to the sun all day heating the boxes. This allows me to do some early planting compared to others. My pea seeds are beginning to sprout about 1inch tall. My ground garden which has great expanded this Spring consists of 28 lettuce plants which include a variety set, romaine, and butter crunch. The lettuce has been growing great and the other night when temperatures dropped to 31degrees on the 31st, seemed to have no impact on anything. Also I planted about 12 leeks this week. I read that leeks are somewhat beneficial to the garden keeping pests and hopefully japanese beetles away come Summer. After some pruning of the blueberry bushes, it appears I did not suffer any losses and they look very healthy after the long and cold winter. Finally my celery plants seem healthy, but very slow growers. It is nice to see my other perennials coming up. I noted my day lilies coming up and my daffodils have bloomed the brilliant yellow around the yard. Tulips are up nearly 6inches and appear healthy although it does not seem to be quite as full as last year. My monstrous bleeding heart is already 3inches high. See pictures from last year of this monster, lol. Anyway get out in the soil and enjoy this Spring weather, although this coming week does not look like the best of opportunity.

"Soil Moisture Anomalies and 5-day Precipitation Amounts from Hydro Prediction Center"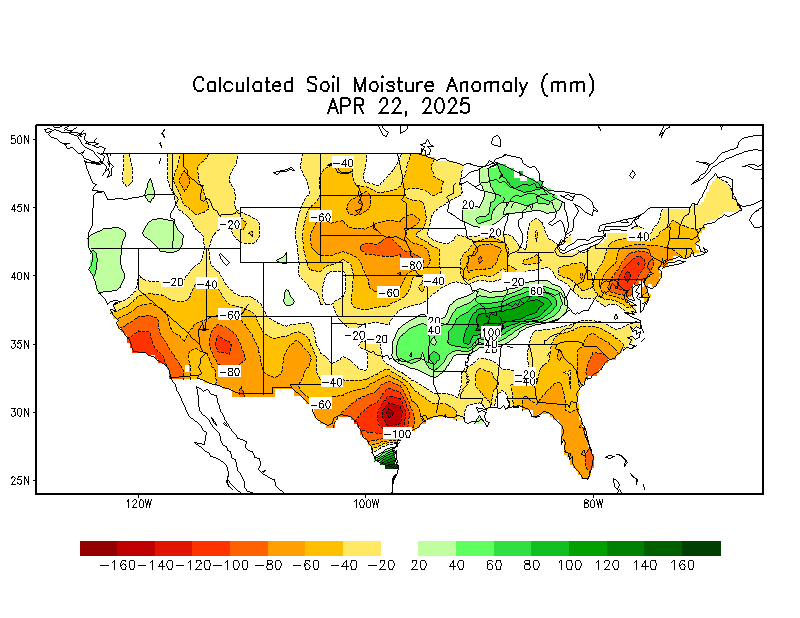 (Courtesy of NOAA)

"Severe Weather Outlook" (Updated 4/5)
A isolated risk of severe weather is possible Monday late morning and early afternoon as a cold front crosses the region. A MCS complex will work its way across the Ohio Valley Sunday night and will feature elevated thunderstorms with high +CTG lightning strikes that will be capable of loud thunder. This combined with rising PWATs near 1.1inches will help create some heavy rain for the morning rush hour for much of Pennsylvania. As a low heads up through northwestern Pennsylvania, a second triple point low will form across the Delmarva similar to last Sunday. But this case will feature unfavorable timing for severe weather. The warm sector will reach eastern Pennsylvania and southern areas Monday morning ahead of fastly approaching stratus clouds from the MCS complex. Very little diurnal heating will occur outside of a 1-3hr period. But during this time near 500j/kg will be able to form. This combined with strong instability aloft will help to create a few stronger updrafts. While the threat looks somewhat limited, a few damaging wind gusts and a weak isolated tornado cannot be ruled out. It appears there will be a lack of surface heating and instability that will inhibit most severe weather. In any case a few strong 60mph gusts could occur along with some spotty flash flooding. The best dynamics will be over the region with high winds and shear aloft, but the best instability hence stronger storms will be over the Carolinas. The next best chance of thunderstorms and or isolated strong storms will be next Friday and Saturday as another wave passes through with possible secondary development again similar to these past events. Still though nothing appears to be too widespread. Severe weather season does not begin until June 1 here in Pennsylvania. Although May has been quite active some years especially late in the month with the worst tornado outbreaks in the state.

"Severe Weather Outlooks from Storm Prediction Center Days 1, 2, and 3"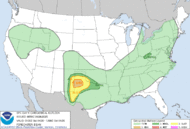 (Courtesy of NOAA)

"Monthly Outlook" (April)
Due to ever-so dull nature of the weather lately and my busy schedule, I never did issue a formal March prediction. In any case it appears the month will come up with near normal temperatures to slightly above normal temperatures along with below normal precipitation for most areas with only above normal precipitation for areas north of Interstate 80. I had a bit of a difficult time coming with a prediction for April. There still though does appear to be a general agreement with an analog year of April 2008. That month was dominated by generally a zonal flow with a weak trough situated over New England. This April I am expecting generally a ridge across the central part of the nation with a trough over the west with a central axis though off the coast and a weak trough across northern New England. This pattern fits well with teleconnections of a positive NAO and negative PNA along with a weak influenced MJO and GWA wave pattern. The weakening SO Nina also favors this setup given the month of April.

Temperature- I am going with near normal temperatures to slightly above normal temperatures. The cooler anomalies will be found for those closer to the New York/Pennsylvania border as they will be closer to the cooler air of the Canadian Maritimes with a trough over northern New England. This will occasionally provide the opportunity for a back door cold front.

Precipitation- Precipitation appears to be below normal for much of the month with the lowest anomalies across the south. Backdoor cold fronts will occasionally bring rain to northern Pennsylvania along with some lake enhanced rain/snow showers on the northwest flow. Meanwhile the flow will be a bit more southern stream dominated with much of any moisture being suppressed to the south of the state with the southern Middle Atlantic being in a more favorable region. Of course with any mesoscale events as thunderstorms, this could disrupt the precipitation totals for localized areas. The severe weather threat appears low for Pennsylvania as there should be a lacking in the clashing of warm/cold airmasses.

"Temperature and Precipitation Outlooks from Climate Prediction Center for next 30 days"


(Courtesy of NOAA)

"Winter Storm Watch" (Updated 4/5)
A very unusual and unseasonably cold airmass will move into the region late Monday through Wednesday. A cutoff low in Canada along with a strong northwest flow will create a spring lake effect snow outbreak. H85s will drop near -10C near Erie, PA along with a cold pocket of H5s near 526mb over Lake Erie. A 310 trajectory flow looks likely becoming near 290 towards Wednesday. The moisture enhancement from the low and the lakes will create widespread upsloping moisture. At first boundary layer temperatures will take some time to cool below 0C for Monday night, but after midnight most areas in the mountains will be below freezing. With non-diurnal effects that night, snow will accumulate as the deformation area will be over much of western Pennsylvania and northern Pennsylvania. Snow accumulations will be 2-4inches for elevations above 1800ft west of the Altoona-State College-Mansfield line. Snow accumulations of 1inch will be possible in the valleys and possibly even in the Pittsburgh and Erie metro areas. Also 1-2inches of snow will possible in extreme northeastern Pennsylvania above 1500ft. Tuesday will feature a continued northwest flow day. Strato-cumulus will cover the region with more of a pure lake effect day. But with the effects of the strong April diurnal heating, snow will be hard to accumulate below 1800ft statewide. Still areas above 1800ft particularily in the far northwest in Warren and southeast Crawford Counties will be able to pick up an additional 1-3inches. Tuesday night will feature a more 290 trajectory lake effect snow event. The ground will have cooled statewide which will help to cause the snow to accumulate more. Abundant moisture, dendritic growth, and Omega values will allow widespread snow showers and bands. Areas in favored snow belts will pick up an additional 3-5inches of snow with isolated 6inch totals along the Erie Plateau in northwest Pennsylvania. A few snow showers may also make it east of the blue ridge. Total snow accumulations for the multi-day event will be 1-3inches for valley locations and the Pittsburgh metro possibly into State College as well with more likely C-1inch. Snow accumulations for 2-4inches for the southern Laurel Highlands and far northeastern Mountains. Snow accumulations of 3-6inches for the full spine of the Laurel Highlands and northern Pennsylvania mountains in Elk County and surrounding areas. Finally 5-9inches will be possible for extreme northwestern Pennsylvania with a foot+ likely along the Erie Plateau in Crawford, Erie, and Warren Counties. The snow will be under a wet consistency with snow ratios around 10:1. Total QPF for the northwestern mountains is around .5-.75inch. With lack of spring foliage and too early for growing season, the only threat should be a few isolated power outages and poor driving conditions. But most snow accumulations will be limited to the grass and elevated surfaces as road temperatures are very warm.

"ECMWF/GFS Day 8-10 H5 Mean Anomalies"


(Courtesy of Penn State Meteo.)

"Here north of Harrisburg 2009 statistics"
(Severe Weather Stats...)
Severe Thunderstorm Watches- 1
Severe Thunderstorm Warnings- 0
Tornado Watches- 0
Tornado Warnings- 0
Total Thunderstorms- 2

(Precipitation Stats...)
Flood Watches- 0
Flood Warnings- 0
Monthly Precipitation- 2.27inches
Yearly Precipitation- 5.52inches

(Temperature Stats...)
Heat Advisories- 0
Excessive Heat Warnings- 0
90degree days- 0
The views of the author are his/her own and do not necessarily represent the position of The Weather Company or its parent, IBM.
Reader Comments
The Northeast Weather Blog...
Previous Entries for 2017