Dry weather week for the Middle Atlantic...
"Afternoon Thoughts" (Updated 5/17)
So after a hectic Sunday morning, I decided to head off to the flower nursery locally in town to get my warm weather vegetables. As I parked I noticed the extremely crowdedness of the local establishment. Heading off to the vegetables, angry children and parent's with lists headed off in a rat race off to the vegetables and tomatoes ramming their cart in front of mine. In fact one woman just about grabbed a cherry tomato plant out of my hand as it was the last one. Unfortunately, the nursery was out of the other plants I needed. I headed off to the local outdoor store and of course they were loaded with vegetables and once again with another busy crowd. Searching for the correct variety, I noted the extreme price for a very small cucumber, etc plant. It was $3.69. I asked a nearby clerk if that was the correct price as before I had seen them at $0.99. She replied and said unfortunately that was the correct price; she began to add that the price skyrocketed not because of the high demand and poor economy but because the plants were packeged in a bio-degradable pot along with recycled paper for the wrapper. I thought to myself about this "Go Green" memo; it appears like much of this is just another retail phenomenon similar to like a Christmas year round. It almost seems like another excuse to get consumers to buy so the the greedy dollar eyed businessman can get a larger profit and more wholesail. While I am all for saving the environment; and yes I do my part, this is all just a media and consumer based motive to get a larger profit. In my opinion let the scientists handle climate change and let the engineers develop more efficient energry development. Whether or not climate change is occuring, which is has not been proven caused by human influence, it seems like once again business is ripping us off just as local gas prices rise only due to the approaching Summer months. While business is business, the unstreetwise consumer needs to make more knowledgeable choices. But after all this little rant; suffice to say I ended up buying the plants, hahaha.

"Regional Radar"


(Courtesy of NOAA)

"Regional Satellite"


(Courtesy of Penn State Meteo.)

"Regional Advisories"


(Courtesy of NOAA)

"Forecast Discussion" (Updated 5/17)
Monday- High pressure will be over the region under a light northwest flow. Radiational cooling from the previous night will allow heavy frost to form in the morning across much of the state excluding major metropolitan areas. Also some dense deep river valley fog may form across central Pennsylvania in the ridge and valley region thanks to the stark air/water temperature contrast (.25mile visibility). The fog will be isolated at best though. After some morning sunshine the temperatures will warm and the fog will burn off for another below normal temperature day. Highs will generally be in the mid 50s across the far north to mid 60s across the warmer southern locales. By Monday evening skies will be completely clear and winds will calm for another extreme radiational cooling night where there could be a 30degree temperature difference between the high and low. Frost formation is likely for the same areas the night before. In fact lows could be a nudge cooler; the old rule of thumb is the second night after a cold front is the coldest. Lows will be in the 30s for most areas with some areas in the mountain valleys in the 20s.

Tuesday- Once again the typical frost and valley fog in the morning will be prevalent for many areas as high pressure remains in control. Cloud cover will be clear expect for a few high topped cirrus clouds, but generally sunshine will prevail. Highs will be nudging back to near normal values around 70 across the southeast to 65degrees across the north. Tuesday night will feature a few more cirrus clouds than the previous nights preventing the extreme radiational cooling like the last two nights before. Lows still though will be below normal to the mid 30s across the north to mid 40s across the south.

Wednesday- A weak backdoor cold front will try to nudge into northern Pennsylvania, but it will encounter a very dry atmosphere and the front will have little to no lift. Still a few rain showers are possible under partly cloudy skies north of I-80. South of I-80 will be under the control of high pressure keeping generally clear skies with a few light cirrus clouds. Rainfall amounts across the north will be very light less than a tenth of an inch. Highs will be near normal with mid 70s for southern Pennsylvania and upper 60s for the north. Once again dewpoints will be relatively low and a fire threat may be prevalent in a few drier valleys. Under partly cloudy skies, Wednesday night will be the warmest night of the week so far with lows in the northern mountains around the upper 40s and lows in the south in the mid 50s to possibly near 57 for near Philadelphia.

Thursday- As high pressure departs the flow turns a bit more southerly allowing warmer and more moist air to funnel into the Middle Atlantic. Dewpoints will rise into the upper 50s to near 60s in the Lower Susquehanna Valley and temperatures will rise to near 80 in the south to near 75 in the north. A light cirrus deck will be around the region with a few afternoon spotty cumulus clouds especially over the Laurel Highlands. Thursday night will be a bit mild with lows slightly above normal in the upper 50s for the south to low 50s across the north.

Friday- The flow gets even a bit more moisture especially aloft allowing for the best chance of precipitation for the week. Sunshine will prevail in the morning with a bit of ground fog in the river valleys which will quickly burn off. Dewpoints in the upper 50s to low 60s combined with the strong May sunshine will cause some after pulse showers and thunderstorms especially over the Laurel Highlands which are aided by orographic lift. Rainfall will be isolated by high in thunderstorms in which some could cause a bit of flash flooding. After the diurnal heating of the day showers and thunderstorms will dissipate for the night for a muggy late May evening. Lows will be in the mid 50s statewide with mostly clear skies.

"Current Surface Map and Weekly History of Jet Stream Position"


(Courtesy of Weather Underground)

"Weekly Forecast" (Updated 5/17)
Pretty calm weather week is in store for the next seven days as high pressure generally remains in control. An abnormal trough will be stationed over the east coast for the first half of the week thanks to that strong cold front passage Saturday and Saturday night. H85s drop below 0C statewide for part of Sunday night through Monday. A 1028mb high pressure will move in overnight Sunday and calm the tight pressure gradient giving way to lighter winds for the rest of the week. H85s will be on the rise by Wednesday rising to (+8)-(+9)C. Dewpoints will also slowly begin to rise as RH values rise back to near 50% or so. Towards the later part of Wednesday a backdoor cold front tries to work into the northern parts of Pennsylvania and may cause a few light rain showers. Generally QPF will be below .1inch. A stalled front and disturbance over the southeast will churn over Florida causing a return to a southwest and moist flow over the Middle Atlantic and will rise dewpoints back in the 50s and 60s by Friday. High pressure will be slowly pushing out to sea, 1024mb. Towards later Friday and Saturday abundant moisture across the Southeast should stream into the region possibly causing some pulse thunderstorms in the late afternoon fueled by diurnal heating. PWATs rise to near 1.5inches, so heavy rain may fall in localized areas with the very intermittent and isolated storms particularily over the mountains in the Laurel Highlands. High pressure noses down from the Canadian Maritimes, 1028mb, and will keep a cold front to our west relatively kept in place until early next week as it poses a threat to our area with showers and thunderstorms towards Monday and Tuesday with possibly a few stronger thunderstorms of should I say the next best threat of severe weather for the Middle Atlantic states.

"Wildfire Outlook" (Updated 5/17)
The wildfire threat is once again a bit elevated in comparison to normal despite the recent heavy rainfall. Gusty northwest winds on Sunday will cause a rapid drying of the topsoil which will further aid fire development later in the week. Dewpoints will be dropping well below the 40% RH spread towards Monday and Tuesday. Winds though will be calming down and temperatures will be cool. But with a somewhat dry top layer of forest floor, it does appear possible that if a accidental fire occurs, it would spread. Natural fires do not seem to be a threat this week. The next best chance of rainfall statewide is not until the weekend and even then the threat looks small. There may be a few backdoor cold fronts this week that may cause a few showers and thunderstorms for northern Pennsylvania with one instance will be Wednesday for the north central mountains. Again QPF will be light and only up to a tenth of an inch. Another instance will be Friday with a bit better chance of rainfall with scattered strong thunderstorms. Rainfall totals may be up to a .5inches in areas that see thunderstorms. Otherwise rainfall this week will be scarce. The only source of moisture for southern areas will be a few morning dews and such.

Here again are the fire criteria for development in Pennsylvania... Link.

Criteria for rapid initiation and spread of wildfires in PA:

1. Winds must be sustained at 15 mph (13 knots) for two hours or more, and

2. Minimum Relative Humidities (which usually occur in the afternoon) must be 30 percent or less, and

3. 10-hour Fuel Moistures must be 15 percent or less (and expected to remain there for two or more days).

"Fire Outlooks from Storm Prediction Center Days 1, 2, and 3"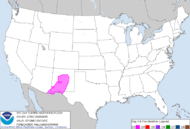 (Courtesy of NOAA)

"Gardening Outlook" (Updated 5/17)
Ah, it has been a very busy gardening week and weekend. So I got a bit antsy and built another 6x2 raised bed box. I then filled it with 12 bags of soil, 10 bags of garden soil and 2 bags of a hummus/manure mixture. I also added some of the rich soil from here in this fertile valley off the foothill of Blue Mountain in my backyad. It appears to be once again very rich soil much like the other two boxes. I ended up buying and planting my warm weather crops which included three tomato varieties Early Girl, Roma, and Cherry. I also added two pickling Cucumber plants and two zucchini plants. Further more I added to my herb pot a oregano plant and a basil plant next to my tomatoes. I also added a single watermelon plant sort of for an experiment to see how well it does. I also picked up a bunch of my yellow wax bean seeds, but I haven't planted them yet. My cool weather crops are doing fantastic; I just noticed I have a single head of broccoli along with three heads of cauliflower so far. Once they get a bit larger I will prepare them for blanching. Also this year I picked up some mesh netting to protect my blueberry bushes which were picked clean by the birds last year to my sad discontentment. My radishes have been picked throughout this week and are absolutely wonderful and this year a brilliant red color. My lettuce plants are doing wonderful and are harvested nearly every other day (remember I planted 28 plants, hehe). The spinach plants are slow to grow but are making better strives than last year. I also have been continuously been picking a few scallions while thinning out the onion bed so the remaining yellow and red onions can grow to their full extent with the garlic in preparation for picking in the late Summer or early Fall. My herbs are doing fine although something must have nibbled a bit out of my parsley. The leeks seem to still be growing; I do not know much about them so if anyone could offer some advice I would appreciate it. The Swiss Chard tastes wonderful and I will admit I have not had any before this year, hehehe. I am not to sure about the celery plants, they seem to be growing and healthy, but where are the stalks? Snow peas are doing out of this world amazing, remember I planted them back in March. They just seem to have continuous shoots, no flowers yet though.

Elsewhere my other gardens are doing wonderful. I added a large shade garden under a mature flowering plum tree last year so I have been on the search for shade perennials which is quite difficult but I have done alright with some trial and error; I also added a few impatients to add some color. I am hoping to do all my potting which is quite a task, next weekend. As for this week in gardening, temperatures will be below normal to start the week rising to near and slightly above normal by the weeks end. Rainfall will be hard to come by in the next seven days especially for southern Pennsylvania. Rain totals south of I-80 will be less than .25inches for the next seven days and north of I-80 up to .4inches of rain. Frost is a major threat early in the week; perfect radiational cooling conditions and abnormally low dewpoints will carve way for well below normal lows with hard freezes in the north and west and frosts elsewhere. Protect your plants both Sunday and Monday nights especially. I have covered my sensitive vegetables already tonight.

"Soil Moisture Anomalies and 5-day Precipitation Amounts from Hydro Prediction Center"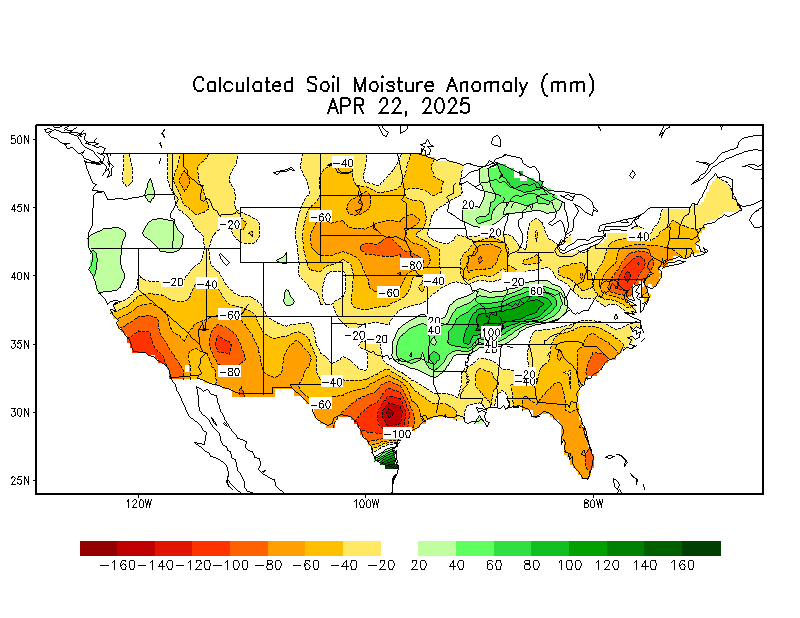 (Courtesy of NOAA)

"Severe Weather Outlook" (Updated 5/17)
So the recent severe weather wasn't too widespread for Pennsylvania thanks to the underlining marine layer, which kept everything under control similar to a CAP or CIN. But one supercell did occur in extreme northern Pennsylvania over Tioga County where some wind damage did occur. As the mesocyclone moved northward into New York State a tornado occured with some structural damage reported. Also further south in Pennsylvania a late blooming echo of storms formed with the severe core about 3miles north of my house where radar confirmed some very strong rotation to the point of I would have issued a tornado warning thanks to the radar reflectivity which confirmed a small couplet. Wind damage was reported in Dauphin, PA and up in Schuykill County near Pine Grove. I also would not be surprised if a weak EF0 tornado touched down in the mountains near Peters Mountain, the land there is quite rural and slimly populated so it may go undetected. Intense lightning did occur with many of the cells along with extreme rainfall as rain rates at my location nudged 8inches per hour recorded. Flash flooding did occur in a few areas; which was all courtesy of the abnormal PWATs aloft near 2inches. Looking ahead severe weather chances don't look great for the next seven days with the lack of any focal point. Towards next week a strong cold front looks likely to sweep across the nation with potentially some severe weather. The time frame for Pennsylvania would be the Monday-Tuesday frame. Overall though this season does seem a bit more active than last year in which only one report of severe weather occured in all of May. This year; remember the tornado back in March in Lancaster County. As always I will provide a special severe weather blog if something does pop up, for now enjoy the quietness nearly nationwide.

"Severe Weather Outlooks from Storm Prediction Center Days 1, 2, and 3"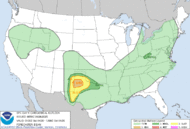 (Courtesy of NOAA)

"Monthly Outlook" (May)
Well my April forecast verification looks just ok. My temperature forecast was spot on with near normal to above normal temperatures. Cooler conditions persisted early in the month, but by mid to late month an anomalous near heat wave definition for some areas hit rising the average monthly temperature for all climate reporting stations in the Keystone State. Temperatures averaged near 0-(+1.5) degrees for the month. Now my precipitation called for drier conditions, which did not pan out. Most areas ended up with about .5inches above normal in the rainfall department. Temperature forecasts always are much more uniformed than the at times unpredictable precipitation forecast. May looks to be a transition month for precipitation as the first half looks wet followed by a return of the average summer jet stream that looks to be this summer with trough in west, ridge in central US, southeast ridge, and weak trough in extreme Northern New England. My temperature call is for near normal to slightly above normal temperatures along with near normal precipitation for the month. The best chance of rainfall will be the first half of the month; also the warmest temperatures look to be towards the end of the month. Already the latest guidance is showing the summer jet stream pattern with MCS traveling through the Great Lakes and across just north of Pennsylvania. Latest EURO weeklies also support this. Here are the detailed predictions...

Temperature- Temperatures will be put on a cap for the first half of the month as cloud cover from rainfall will hold temperatures near normal. Soil moisture levels will be +1 deviation above normal. When soil moisture is below normal this allows boundary layer temperatures to be much warmer. Wet soil conditions tend to keep a hold on extreme hot temperatures. Later in the month the Bermuda high looks to nose in with a southerly flow drawing up very warm conditions with highs likely in the 90s several days this month.

Precipitation- Precipitation will be common for the first half of the month under a progressive flow. Precipitation may in fact average above normal the first half of the month. As the pattern transitions drier conditions will occur with only occasional thunderstorms outbreaks providing needed rainfall. The end of the stratiform rainfall will likely occur mid month. By the months end an above normal first half and below normal second half will lead to near normal precipitation. Although as we all know a two week period of dry weather does not at all show that we may have just had a wet four previous weeks.

"Temperature and Precipitation Outlooks from Climate Prediction Center for next 30 days"


(Courtesy of NOAA)

"Tropical Update" (Updated 5/17)
Looking at the latest North America water loop there is an evident area of disturbed weather in the Caribbean. An area of heavy thunderstorms and showers is across Jamaica and parts of eastern Cuba. Latest global models portray this area to move northwest towards Florida and come in contact with a cold front. This will allow for a stationary boundary to form with a disturbance interaction. Heavy rainfall with engulf most of the entire state of Florida as PWATs rise above 2inches which is several devations above normal. Showers and thunderstorms will produce rainfall in excess of 5inches in some locations which may pose some flash flooding issues. This rainfall will be very beneficial as most of Florida has been drought stricken for quite a while. This storm will not likely further development as upper level trade winds are not favorable for development and contain high shear values. This disturbance will try to work its way up part of the east coast with humid tropical air and summer like pop-up showers and thunderstorms for the Southern Middle Atlantic. It remains to be seen how far north the moisture will make it for any possible interactions with Pennsylvania towards the weekend. Further out the GFS continues to develop fantasy tropical systems none of which come to fruitation anyways. It is not uncommon though to get tropical systems in May especially subtropical storms. So in any case those with coastal interests for the next seven days look to breath another side of relief until hurricane season starts which is June 1.

"Latest Tropical Systems including Sea Surface Temperatures"


(Courtesy of Wunderground)

"Here north of Harrisburg 2009 statistics"
(Severe Weather Stats...)
Severe Thunderstorm Watches- 2
Severe Thunderstorm Warnings- 1
Tornado Watches- 0
Tornado Warnings- 0
Total Thunderstorms- 7

(Precipitation Stats...)
Flood Watches- 1
Flood Warnings- 0
Monthly Precipitation- 6.54inches
Yearly Precipitation- 13.40inches

(Temperature Stats...)
Heat Advisories- 0
Excessive Heat Warnings- 0
90degree Days- 2
Highest Temperature- 92degrees
22 May 2009
The views of the author are his/her own and do not necessarily represent the position of The Weather Company or its parent, IBM.
Reader Comments
The Northeast Weather Blog...
Previous Entries for 2017