A Hazy, Hot, and Humid Monday...
"Afternoon Thoughts"(Updated 8/08)
Have you ever just taken one of those "Sunday Drives?" Perhaps it was a drive to escape the real world for a few hours or maybe just an act of leisure. In any case sometimes it is best to get away from the suburbs or urban environments and head to the rural territory. Well last weekend, we decided to take a drive out to Raystown Lake in Huntingdon County central Pennsylvania. For those unfamiliar with the lake, it is the largest landlocked lake in Pennsylvania and was man-made in which the US army corps of engineers flooding a steep mountain valley for water sources along with recreational use in the 20th century. The lake is home to a resort, large marina, beach, and popular boating and fishing location. Large Bay Liner boats are out on the water including house boats. Outside of our comfort zone of suburban areas in the Harrisburg-York-Lancaster-Lebanon corridor on westward in the rest of central Pennsylvania lays a very interesting area full of mountains and Amish Valleys. We took rt 322 up to Lewistown which is a typical drive from Harrisburg to State College. Locales... the construction has finished near the Lewistown Interchange. Anyways up in Lewistown we caught 522/22 down to Huntingdon. On this smaller two lane road it amazed me how rural much of Pennsylvania is, keep in mind I am quite familiar with much of rural Pennsylvania from the Poconos to the northern Mountains to the Laurel Highlands. But something seemed different out in this region; I was never out in the central part of the ridge and valley region in Huntingdon County. Much of the region is just pure mountains with elevations reaching 2000ft and Amish farming valleys. Traffic lights only consist of blinking amber lights with small towns along the way full of Pennsylvania Dutch names. After finally reaching the lake tucked in between two large mountains, rt 26 parallels the lake on the western side and side feeder roads feed off to the east about 5-10mile each down to the shoreline. I had always thought Lake Raystown was completely commercialized with resorts and homes for rent along the shore. But this place is not like a Deep Creek, Maryland; instead corn crops litter the roads to the lake with only two large recreational places on the lake. Many of the communities out that way still use the same farming techniques as the 19th century for example in their methods of bailing hay. It always amazes me how relaxing a country drive can be through hills and valleys of Pennsylvania watching the tractor go by and watching what seems like time that stands still in these communities. We stopped for dinner in this little restaurant in northern Franklin County in Amberson where they serve home-style Pennsylvania Dutch type foods and truly everyone knows everyone. And that evening around sunset we drove back through Amberson valley to a relative of mine's old stomping ground, it was just marvelous with the sun beaming off the fields and trees with deer throughout the tree line from the farm fields to the mountain foothills. And finally a drive back through the old neighborhood tucked in the valley yielded a simple wave from a friendly local. For me there is nothing better than a drive through a small rural community in the mountains of Pennsylvania where everything seems like time doesn't move just quite as fast. Finally out to the turnpike where busy traffic, 18-wheelers, and construction controls the world. Although most of us would prefer living in a healthy suburban area, once in a while we all need to take a drive through the hills and farms, and just take a deep breath and enjoy the beauty of nature. Have a fantastic Sunday "drive!"

I would like to thank everyone for tracking the thunderstorms here with me as they plowed through central Pennsylvania through the Delmarva. This was the most active the blog has been since winter time. It was nice to see it very active again. See severe weather outlook section for more details on the impressive bow echo that caused damage from Ontario, Canada to Delaware. Well anyways just to note also, I added a current weather map for those interested in seeing current low, high, and frontal positions over the lower 48.

"Regional Advisories"


(Courtesy of NOAA)

"Current Weather Map"


(Courtesy of Wunderground)

"7-Day Forecast Discussion"(Pennsylvania, Maryland, Delaware)(Updated 8/08)
Well for once this Summer I can say "the heat is on!" An evident warm front continues to lift slowly northward as hot, humid, and hazy weather approaches from the south already reaching southern Maryland on Sunday. As a 1020mb high pressure continues to pump up heat from the south the warm front will remain an area of action as thunderstorm complexes continue to rotate along the warm front axis. Rising H85s to near 21C over areas as far north as Baltimore with a strong southwest flow will push in dewpoints also well up in the mid to upper 70s. Surface temperatures for highs will be well up to 98 for Washington DC pushing the record of 102degrees for the date. For areas a bit farther north the Baltimore to Dover corridor will likely get in on mid 90s with low 90s from about I-80 on southward. Philadelphia and York may push mid 90s also. Heat indices will approach dangerous values in urban areas up to 105 possibly 110degrees in Washington DC under full sunshine with a UV index of 10. Air quality will also be poor for the entire region, but especially across the Pittsburgh and I-95 corridor in the area. Some morning dense fog may occur across central Pennsylvania and eastern areas thanks to previous Sunday rainfall and Sunday night early morning Monday thunderstorms. Some debris clouds will also be around from about the Pennsylvania turnpike on northward with a low stratus deck with LIFR conditions around 300ft ceilings. Some rain showers may also be over northern Pennsylvania. By 10am skies should be clear from about I-80 on southward with a CAP over the region as the warm layer aloft thickens especially towards Maryland and Delaware. A few thunderstorms are possible especially north of the Mason-Dixon Line with more concentrated storms over northern Pennsylvania closer to the washed out cold front. With bulk shear values near 40knots and helicity rising to near 150 m2/s2, it is possible for severe weather over all of northern Pennsylvania on Monday. But a stronger CAP will be over the region so the threat is not as likely as it was Sunday. QPF amounts will vary over the region with up to 1inch over northern Pennsylvania to little to no rainfall over Maryland through Delaware. Sticky air and ground fog will be common Monday night as the warm sector encompasses the entire three state zone with lows mild and in the 70s for most locals with mid to upper 60s over the mountains from Garret County, Maryland up through the North Central Mountains of Pennsylvania. Clear to partly cloudy skies will be common. A low of 80degrees is even possible in downtown Baltimore and Washington DC. Tuesday will feature a cold front passage with scattered showers and thunderstorms ahead of the front. Meager jet dynamics and a slight CAP will inhibit widespread severe weather from occurring. QPF does not look all that impressive generally around .25inches for most areas with the best chance of thunderstorms likely in central and eastern Pennsylvania. Highs Tuesday will be in the 90s for Maryland and Delaware with 90 still possible for areas along and south of the Pennsylvania turnpike. But north of there 80s will rule, but that is still a few degrees above normal. Tuesday night thunderstorms will begin to weaken as they move through eastern areas near Philadelphia and in Delaware on out to sea. Partly cloudy skies will persist with mild lows as the air mass moving in is not much cooler. Weak high pressure remains in control so some dense fog is possible overnight Tuesday. Lows will be mild in the 60s to low 70s for all areas.

Wednesday will feature relatively quiet conditions after a busy few days. The cold front will stall to our south over Virginia and eventually wash out. Southern Maryland and southeastern Delaware will have a slight threat of thunderstorms thanks to the proximity of the stalled front, but chances are low and QPF is likely less than .25inches for those areas. Highs Wednesday will be right around climatological normals for all locations just in the low to mid and possibly a few upper 80s in the cities. Wednesday night will feature clear skies and dry conditions with lows due to radiational cooling a degree or two below normal in the upper 50s to lower 60s with mid 60s likely in Baltimore and Washington DC. Thursday will be quiet for most areas once again with a slight chance of thunderstorms for southern areas once again being closer to the front. Highs will be similar to Wednesday but perhaps a degree or two higher. A few model discrepancies develop for later Thursday night into Friday as the GFS wants to lift the front slowly northward while the EURO keeps the front drifting south. In any case a strong influx of moisture is likely to be moving over the southern Middle Atlantic and southeast. Depending on the front location will prove where thunderstorms likely occur in the surrounding vicinities. Best bet would likely be for the front to keep the moisture generally south of the Washington DC to Dover, Delaware corridor. For now Thursday night looks generally dry with lows near seasonal norms in the 60s for most locations. Friday will feature a partly cloudy sky with an isolated chance of a diurnal thunderstorm for areas south of I-80. Dewpoints will be a bit higher with a more southerly flow. Temperatures will reach into the upper 80s for many areas south of the Pennsylvania turnpike with low to mid 80s to the north. For now the weekend looks dry, but models are having some problems handling the moisture up the east coast. Stay tuned for updates throughout the week.

"Regional Radars"


(Courtesy of Wunderground)

"Regional Satellite"


(Courtesy of Penn State Meteo.)

"Lower Susquehanna Valley Forecast"(Franklin, Adams, York, Lancaster, Cumberland, Perry, Dauphin, Lebanon Counties)(Updated 8/08)
Ah yes, August never seems to fail with at least one hot weather day. After some morning dense fog over the Lower Susquehanna Valley things will clear out with sunshine out in all areas by at least noon. Some overnight convection will keep the area stabilized for most of the morning keeping temperatures a bit cooler with low stratus especially for areas north of the Pennsylvania turnpike. But by noon August sunshine will score out the clouds and fog that forms. Hazy weather will be common Monday with visibilities at and around 6miles throughout the day. Air qualities will also be poor with code orange levels being reached in the cities of Harrisburg, York, and Lancaster. Temperatures will be dependent on how much morning sunshine an areas receives. For areas near the Mason-Dixon Line especially from the Chambersburg to Lancaster line highs will easily approach 97degrees, but for areas around the turnpike including Harrisburg highs will be in the mid 90s around 95. For northern Dauphin, Perry, and Lebanon Counties in the ridge and valley region highs will be slightly cooler in the lower 90s thanks to morning residual moisture and clouds. Dewpoints will be the real story of the event with a strong southerly flow. Areas that received rainfall within the last 24hours will have dewpoints in the mid to even upper 70s at times. Heat indices will approach 105degrees especially for Harrisburg, York, Lancaster, Gettysburg, and Chambersburg. Sunshine will prevail most of the afternoon, but a stray thunderstorm cannot be ruled out for the ridges north of Blue Mountain in the afternoon. Severe weather should be confined north of the Lower Susquehanna Valley, but it still bears watching a bit. Monday night will be very warm and well above normal with lows staying in the 70s for all areas as dewpoints will be very high preventing any sort of radiational cooling. Ground fog is also possible up through Fishing Creek, Stony, Clarks, and Powells Valleys in Dauphin County. Skies will generally be partly cloudy. Tuesday will feature a cold frontal passage but out ahead in the warm sector will be the continued theme of hot, hazy, and humid weather with highs up to 90degrees as far north as Harrisburg, but a much better chance in York and Lancaster. Showers and thunderstorms will move through in the afternoon hours with rainfall amounts up to a quarter of an inch especially in areas such as South Mountain with an upslope flow favorable in the southwest flow environment. Tuesday night will feature humid conditions with any residual moisture around the region especially in the valley locations. Lows will be mild in the upper 60s to lower 70s once again.

Wednesday will feature some improving conditions and back to normal temperatures as high pressure remains in control with a cumulus sky ruling the afternoon. Highs will be close to normal around the mid 80s for most locations. Wednesday night looks dry with lows near normal or slightly below normal with dewpoints lower than the previous few days. Lows will range from the lower 60s in the mountains to mid 60s in downtown Harrisburg and York. Thursday will feature similar conditions to Wednesday with highs in the mid 80s and sunshine. Thursday night increasing humidity may cause some light fog to develop with visibilities as low as 3miles overnight into Friday morning. Lows will be slightly warmer in the mid 60s for most locations. Friday will feature more humid weather and warmer temperatures approaching the upper 80s. A stray afternoon thunderstorm cannot be ruled out especially over South Mountain and south of the Mt. Gretna Mountains and Conewago Mountains. Friday night will feature more ground fog and milder temperatures in the upper 60s for most areas with mid 60s in more rural locations. For now the weekend looks dry, but things could quickly change as there is a lot of moisture to our south over the east coast which could try to advance northward.

"Current Lower Susquehanna Valley Radar"


(Courtesy of Wunderground)

"Chesapeake Bay and Atlantic Coast Marine and Boating Forecast"(Maryland and Delaware Coastal Forecast)(Updated 8/08)
Pretty quiet marine questions this week over the open waters of the Atlantic coast and Chesapeake Bay as a ridge and weak bubble of high pressure remain in control Monday and Tuesday with a cold front Tuesday night and more high pressure the rest of the week. Southwesterly winds around 210degrees will be common through Tuesday as most of the northern Middle Atlantic will be in a warm sector ahead of a slow moving cold front from the west. Some channeling of water is possible in common splash over areas of the Chesapeake, but no flooding is expected anywhere this week. Beach erosion will also not occur and rip current threats remain low this week. The biggest threat this week will be diurnal chances of thunderstorms especially over the northern coastlines of the Atlantic in Delaware and the northern end of the Chesapeake closer to the warm front thunderstorm initiation. Some storms this week will contain very heavy rain as PWATs stay near 2inches and wind damage is a strong threat with any cell over water with high bulk shear values aloft. Keep in mind of this for those with concerns over the water and be prepared in case that a Special Marine Warning is issued. Winds will shift briefly to the west-northwest during the day Wednesday after the cold front before shifting back more towards the west and south as more warm air moves in later in the week. Keep in mind also on Monday and Tuesday for very hot weather with dewpoints in the 70s adding to heat indices near 100. Heat exhaustion will be possible as UV rays will be near 10 over the open water with strong sunshine. Air qualities will also not be favorable and near code orange especially near the larger ports in the Chesapeake such as Baltimore and Annapolis. Overall though conditions will remain generally below small craft advisories for a majority of the week. Happy boating!!!

"Current Atlantic Coast Forecast Wave Heights and Chesapeake Bay Forecast Wind Direction/Speed"


(Courtesy of NOAA)

"Agriculture/Gardening 7-Day Outlook"(Updated 8/08)
Well for the first time this year the 7-day garden outlook will feature some hot weather in the time frame putting a strain on plants. Relatively widespread heavy rain occurred Sunday across central Pennsylvania and points east and south with western Pennsylvania and southern Maryland seeing the least amount of rain. More rain will continue the first half of the week especially from the Pennsylvania turnpike on northward, closer to the warm front. But a widespread cold front will move through Tuesday with scattered showers and thunderstorms with QPF around .25inches or possibly more in thunderstorms. The hottest weather is expected to be Monday with 90s for region wide excluding only northern Pennsylvania. Tuesday will be slightly cooler but still 90s for as far north as Baltimore to Philadelphia. The cold front will move through with cooler weather and more seasonable highs for the rest of the week. QPF will also be more limited towards the end of the week. Watering concerns will be likely especially starting Wednesday evening through the weekend as things begin to dry out from the thunderstorm complexes that have moved through the region throughout the first half of the week. The heat will also be accompanied by high dewpoints so drying out of the soil does not appear likely during the hot weather as dewpoints will be in the 70s. Happy gardening!!!

My vegetables are doing pretty well although some are showing signs of summer time stress from the consistent strong sunshine. My tomatoes are all of a sudden ripening quite quickly especially the roma, but I am getting some Early Girl tomatoes along with Cherry and Grape tomatoes. I think I planted too many tomato plants as I find myself giving most of them away to family and neighbors. The herbs seem to be also doing well with my Basil still growing within my tomato plants and still quite healthy. The Cilantro plant has died and I pulled it out of the ground. The oregano, parsley, and chives pot is growing well with the chives growing much larger than last year with a slightly better and stronger flavor. Last year I planted garlic chives, but I like regular chives better I believe. Also I dug out all of my garlic which was about 10 bulbs with about six or seven cloves in each bulb. I now have the garlic hanging in a dry, dark spot in the shed. My yellow and red onions are done and I pull them on occasion when I need them; I do find though the flavor is a bit stronger than earlier in the summer, but that does not bother me. The radishes are a complete failure as they have not grown any larger of a bulb and the green foliage has gone to seed; I guess it is time to pull it out. I did plant some cool weather crops which are doing well so far... We will see about that after the heat on Wednesday, lol. Anyways I planted Spinach and Buttercrunch lettuce plants along with broccoli and cauliflower. The broccoli and cauliflower look a bit stressed, so we will see what happens. My pepper plants are producing wonderful Big Bertha green peppers with some beginning to turn red. I picked a few large green ones to give to a family member for stuffed peppers; they were pretty darn large. My Lambkin melon plant looks healthy with one melon beginning to turn ripe as the color turns from a dark green to a light green. My other melon plant, the watermelon just has real small melons which may end up not doing anything. My Beets are fantastic in fact they tasted absolutely wonderful as they were nice and tender with a size of about a ping-pong ball. There still are many beet plants in the ground not ready to be picked yet. The yellow beans still are producing many beans which reminds me that I need to go pick some of them tomorrow, lol. The zucchini and cucumber plants are another story... I clipped the dead growth and white growth on the leaves to allow for hopefully new blooms which seems to be occurring, which is good. Hopefully I will manage at least one more zucchini and a few more cucumbers. Last year around this time is when I lost my cucumber plants also and zucchini. My Leeks still are growing with a thickness of about a half-dollar so a few may need picking shortly, although I do not really know much about leeks myself. My Swiss Chard was just picked again and cooked and continues to have a wonderful Spinach flavor. What is nice about Chard is it grows throughout the entire growing season in hot and cool weather. My Celery plants continue to get more stalks which are making me quite excited to see how they taste! My Blueberry bushes, just like last year, have foliage turning bright red as their growing season seems to end during the final heat of the Summer. All in all it seems the vegetable garden is still producing quite a bit of crop.

"Soil Moisture Anomalies and 5-day Precipitation Amounts from Hydro Prediction Center"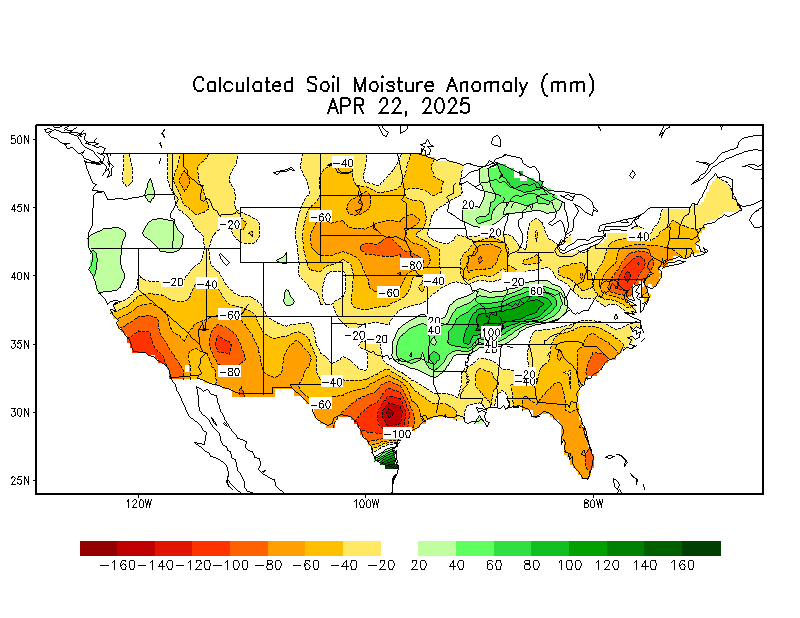 (Courtesy of NOAA)

"Severe Weather Potential/Probability"(Updated 8/08)
Sunday featured some interesting severe weather across the region with the most widespread severe weather event of the season for much of the Northern Middle Atlantic, but especially for Pennsylvania. A warm front lifted northward across the region bring a dirty warm sector over the area. A parade of MCSs developed over the Great Lakes and moved southeast along the warm front overnight Saturday featuring heavy rain and occasional lightning and thunder as far south as Dover, Delaware. The warm front began to wash out of the region as another thunderstorm complex developed in western New York. Stable air still existed over eastern areas while areas to the west saw hot and sunny weather due to dry weather overnight and no morning residual clouds. SBCAPE values rose to near 3000 j/kg by 2pm over western Pennsylvania. A narrow axis between the high instability and stable air developed over central Pennsylvania southeast to Philadelphia which some heating recovery by afternoon. This axis lead the path of a dangerous thunderstorm complex that was moving through an environment with bulk shear values over 40knots, PWATs near 2inches, EHI values near 4, and Helicity values several hundred s2/m2. The thunderstorm complex began to bow out towards the New York border featuring intense winds moving out towards the surface. Radar velocity scans showed winds as high as 94knots, again radar based, in the most intense part of the bow echo which was the right front quadrant. Several couplets formed in the bow echo forming small and quick hitting tornadoes. The bow echo intensified and moved through northern Pennsylvania with strong downdrafts featuring straight-line winds. A tail off the bow echo was also a lone super cell in western Pennsylvania which caused a tornado in Clearfield County and widespread damaging winds. The bow echo was very healthy on radar as there was evident weaker DBZ in the thunderstorms themselves showing a healthy inflow to fuel the storms. As the thunderstorms moved off the mountains they began to weaken but still produced damaging winds. The eastern band weakened rapidly in the more stable Lehigh Valley with the western side of the squall line moving as far south as Delaware and off the coast of Cape May by evening with widespread wind damage over 300miles. Thunderstorm complexes like these are relatively rare as they are typically featured in major pattern swings in late Summer when the most extreme heat of the Summer occurs. They typically either ride the beginning of an onslaught of heat or they come with the cold front after the heat wave. In any case they develop east a surface low and ride along the warm front ahead of the unusually hot weather. They typically form in patterns just like this one with major pattern changes. But there is still much to learn about these complex thunderstorms areas and their development and track just as tornadoes are a relatively new science. In any case Sunday and Monday should feature some pretty unusual thunderstorm complexes.

This parade of thunderstorm complexes will continue the next day through Monday as the warm front continues to slowly lift northward and wash out over the region. But as was evident Sunday, there are a few important notes. One... MCS a good rule of thumb is to predict south of their forecast track and two MCSs have their own rules defying the laws of meteorology. The complexes remain some of the most difficult forecasts in the Summer and computer models are not really any help. But where the instability axis lines up like Sunday will be the parade of thunderstorms. Heavy rain will be common Monday with high PWATs near 2inches which is several deviations above normal. Some areas will definitely bust in their temperature department thanks to clouds especially in northern Pennsylvania. The best forecast for Monday is an hour by hour look at the current radar and mesoanalysis. More thunderstorms are possible Tuesday with the cold front with some isolated severe weather, but bulk shear looks pretty meager at this time. The rest of the week high pressure will dominate, but a few diurnal chances of thunderstorms are possible over southern Delaware and Maryland with sea breeze interactions. In any case this pattern is lining up perfect with August predictions. Stay tuned for more information Monday on the impending severe weather. I will say areas farther north in the Northeast have a better chance at the ring of fire, but as we saw today these thunderstorm complexes like to track a bit south of guidance.

"Severe Weather Outlooks from Storm Prediction Center Days 1, 2, and 3"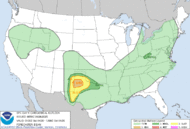 (Courtesy of NOAA)

"Atlantic Ocean Tropical Discussion"(Updated 8/08)
Hey, something actually to talk about in the tropics. Recent QuikSCAT nearly shows a complete surface circulation for the latest Invest in the Atlantic just west of the inter-tropical convergence zone. Invest 99L is predicted to move west the next few days by current global models in remain in a favorable environment for development with 25-28C SSTs in the central Atlantic and shear values by current CIMSS are predicted around 10knots through Monday evening which is low enough for development. Winds are now estimated near the center of circulation to be sustained at nearly 20knots close to depression thresholds. I expect this system to become the second tropical depression of the 2009 hurricane season. Current watervapor loop suggests some dry air upstream from the Invest which may affect it in the coming days, but for now slow development is likely. Current guidance suggests a westward track with model trends more towards the south into the Caribbean, but a curve out to sea is not near out of the realm of possibilities. For now this system remains nearly five days before any contact close to a landmass as it moves across the central Atlantic at around 20mph. We will have to wait and see whether this becomes our first tropical storm of the season, but I am giving it a pretty high 60% chance of that happening, conditions seem pretty favorable for a slow, but steady development. Further on down the road latest GFS predictions show strong tropical waves continuing to rotate off the coast of Africa posing potentially some problems down the road. It appears things have finally begun to become a bit more active out there in the central Atlantic. As I always say, it only takes one storm to make a season memorable. Stay tuned to the National Hurricane Center for updates throughout the week!

"Current SSTs and Tropical Systems/Atlantic Infrared Satellite"


(Courtesy of Wunderground)

"Monthly Temperature/Precipitation Outlook"(August)(Updated 7/27)
After a below normal June and July, August may try to tap into some warmer air. In June temperatures averaged around -.5degrees across Pennsylvania despite few if any 90degree high temperature days. The warmest conditions oddly enough occurred this year in April. But we are entering a slight pattern change. The trough situated over the east coast will begin to pivot westward over an extended period of time. This will keep the core of the cooler air and trough axis over the Great Lakes. But this does not mean warm air is going to be surging up the coast. Further downstream the trough over Europe will still be over eastern areas and until this trough is replaced with a ridge, the east coast of the US will continue to be lacking in above normal temperatures. With the trough axis slightly to the west of the region, this will place the Northeast is an active pattern for disturbances and rainfall. They will develop along the lower end of the trough and move northeast up the trough. Also something interesting is how this deep stubborn trough will stall in the Southeast off the coast and Gulf of Mexico. As mentioned earlier, I am still monitoring the possibility of tropical development on the axis of the lower end of the trough. For now that is just an outside chance, but still I expect the Atlantic tropical season to start getting in gear during the month of August with the Gulf of Mexico and southeast coastline at the highest threat for any land falling system.

Temperature- Temperatures should average around normal from (-.5)-(+.5) with areas across the western half of the state slightly cooler than eastern areas. This Summer will surely be one to remember with the crystal clear blue skies and dry air, but during August I do expect humid conditions to be a common theme during a majority of the month. Temperatures should be warmer in the first half of the month as cool air reloads across the Arctic Circle as the NAO surges near neutral. But during the end of the month I expect a return to near negative NAO values with below normal temperatures along with the trough axis moving back east as the EPO values surge back to negative too.

Precipitation- This month looks to be fairly wet with normal to above normal precipitation thanks to the trough axis to our west, but a flow bringing in Gulf Disturbances on up the coast. Also any tropical influences will likely make landfall and head up the east coast states causing heavier rain. The highest chance of above normal rainfall will be over southern areas thanks to high instability forming stronger thunderstorms with heavy rain. I still have the first week in August open as a period with possible severe weather being likely as disturbances rotate in from the Lakes with possible severe thunderstorm squall lines, but for now that remains about 1-2 weeks away.

"Temperature and Precipitation Outlooks from Climate Prediction Center for next 30 days"


(Courtesy of NOAA)

"Here 10mi Northeast of Harrisburg, PA 2009 Statistics"
(Severe Weather Stats...)
Severe Thunderstorm Watches- 7
Severe Thunderstorm Warnings- 6
Tornado Watches- 0
Tornado Warnings- 0
Total Thunderstorms- 30

(Precipitation Stats...)
Flood Watches- 4
Flood Warnings- 1
Monthly Precipitation- 2.61inches
Yearly Precipitation- 26.28inches

(Temperature Stats...)
Heat Advisories- 2
Excessive Heat Warnings- 0
90degree Days- 6
Highest Temperature- 95degrees
The views of the author are his/her own and do not necessarily represent the position of The Weather Company or its parent, IBM.
Reader Comments
The Northeast Weather Blog...
Previous Entries for 2017