Cooler weather pattern takes hold in the Northeast to open April...
After a very mild few weeks in the Northeast, cooler weather and a little taste of winter are headed towards some viewers. While the snow will be short-lived, long term prognostics indicate a potentially cool beginning of April for those in the east.

"Afternoon Thoughts" (Updated 3/29)
The 2010 award winning Sundance Film Festival's "Waiting for Superman" highlights critical flaws in today's public education system. The premise behind the film highlights the struggles of parents and students in Harlem in the fight against the poor public schools in the city. Families have the option to chose charter schools as an alternative education, but the competition is fierce especially for schools such as Harlem Success Academy. In fact to receive admissions into these charter schools, one is entered in a random lottery where odds are often very slim. A similar documentary, "The Lottery," provides a another storyline again highlighting the issues in public schools particularily in highly urbanized areas. Through evidence such as Michelle Ree's attempt to evaluate and reform the Washington DC public school system, the movies take a critical approach without posing direct blame on any one factor.

Both documentaries highlight charter schools as a superior alternative to public schools. They also indicate that it is not the students fault for failing federal test guidelines, but instead the adult bureaucracy whom many of which have no experience in the classroom. The failing scores of American students against other foreign countries shows there are clear differences.

A 2011 Wall Street Journal Article (Link) by Stephanie Banchero poses a possible model solution to better equip students in a failing public school system. The solution is simple; provide a strong and healthier adult-student relationship in the schools. Current theologies in many schools value just making sure the student passes (partly due to the dreadful No Child Left Behind Act) without any concern for the value of his/her education. I have personally had educators mention that their only goal is to see us (the students) walk across that graduation stage. By providing strong bonding relationships in the school itself, not only is a mentor-like figure provided, but someone to whom the student is accountable especially if parental figures show no particular support or interest.

Boundaries need to be broken in public education, and the entire current system is in desparate need of reform. Both documentaries listed above providing a quick, but shocking glimpse at many of the problems. While they provide limited solutions, they more importantly highlight the problem.

The purpose of educated students is to prepare them to be hard-working and decent citizens. Instead present curriculums seek the easiest methods to solve a problem. Students need to be challenged and better prepared not only through increased academic work, but also in moral code. And along with providing a closer staff-student bond, these factors can be reached.

"Regional Radar"


(Courtesy of NOAA)

"Regional Satellite"


(Courtesy of Penn State Meteo.)

"Regional Advisories"


(Courtesy of NOAA)

"Weekly Forecast" (Updated 3/29)
Friday- A weak trough centered over the Northeast will begin to lift northward as warm air advection filters in from the southwest. Sunshine will likely start the day for many areas after a cold morning courtesy of radiational cooling. A heavy frost/freeze is likely for areas as far south as central and northern Maryland. Increasing cirrus ahead of the next advancing shortwave will give way to a mostly cloudy afternoon and evening with temperatures rounding up in the middle 50s for the Middle Atlantic. But a thermal boundary over the southern tiers will maintain a cooler profile for New England with H85s below 0C from the I-90 on northward. Friday night will feature an advancing QPF shield from the Ohio Valley into western areas with lows dipping to near freezing from I-80 on northward.

Saturday- Overnight Friday and into Saturday early afternoon will feature the bulk of QPF as a weak shortwave advancing in a due west to east manner. Current global guidance generally indicates a surface low track over Pennsylvania and New Jersey. The GFS and GGEM remain on the northern limits with the NAM and ECMWF a bit further south. QPF will generally be less than .6in for most all areas and limited to a narrow 100mi or so zone. Given the antecedent cooler air mass in place over New England, boundary layer temperatures will be at or below freezing from the southern tiers to I-90. This axis stretching east into Connecticut will see the potential for a light wet snow event. H85s will be around -1 to -3C with 1000-500mb thicknesses below the central 540dm threshold. Poor dendritic snow growth and limited Omega will limit snow rates to at or below .5in/hr at the height of the event. Ground temperatures will also be another limiting factor with accumulations generally limited to grassy surfaces. The highest accumulations will be across the higher elevations in the Catskills particularily above 1200ft with possible peak amounts at 6in on a stray peak. A snow map has been posted below, but I may have been a bit generous with amounts given the marginal setup. Rain is expected elsewhere south across Maryland, Pennsylvania, and New Jersey. A strong confluent flow over New England an associated 1020mb anticyclone will maintain dry conditions north of I-90.

Sunday- By Sunday morning any lingering clouds will begin to clear as the northwest confluent flow begins to wane as warm air advection and increasing 850mb thermals begin to dominate. A warm front will attempt to lift northward in the Ohio Valley under the southwest flow. Temperatures will soar in the 60s for areas south of I-80. Latest GFS/NAM/ECMWF guidance indicates a back door cold front for Sunday across the Northeast along with a developing 1008mb anticyclone over Nova Scotia. This may prevent and limit the extent of the warmth ahead of the next cold front approaching from the west.

Monday- The back door cold front will likely linger across southern New England. Slight frontogenic lift along with front will set the stage for scattered rain showers on Monday across southern New England and the northern Middle Atlantic. QPF will remain less than .1in for most all areas. Temperatures will warm to near 70F towards Washington DC, but remain in the lower 50s and upper 40s across New England courtesy of a tight thermal gradient.

Tuesday- The back door cold front and maritime flow will begin to push northward on Tuesday as a strong warm front lifts northward over the entire Northeast. H85s will rise to above +10C for many areas ahead of the cold front with 2m temperatures up towards 70F as for north as I-80. Weak forcing and lift along the front will limit QPF with generally convective precipitation trends. It appears like it will be a dirty warm sector and therefore will limit CAPE and subsequent surface instability. Also a developing low pressure along the front in North Carolina will steal most of the moisture from the front. Thunderstorm potential will be highest for those across southern Pennsylvania and into Maryland. Elsewhere just light rain showers are likely.

Wednesday-Friday- Much cooler weather is likely to settle in towards Easter weekend with a deep trough over the east and 1000-500mb thicknesses at sub 530dm for many areas. 2m temperatures will also likely be below normal, but overall conditions will be dry.

"Current Surface Map and Weekly History of Jet Stream Position"


(Courtesy of Weather Underground)

"Wildfire Outlook" (Updated 3/29)
A potentially dangerous wildfire season is possible for parts of the Northeast given the early mild spring temperatures and accompanied dry conditions. The recent warm spell resulted in many brush fires stretching from Pennsylvania through Maine, but many of these were minor in nature. The threat will continue through the next several weeks especially considering the forecasted dry pattern. Many areas in parts of New England have received at or less than two inches of rain over the past 60 days. While on the heels of one of the wettest years on record, low snow packs and depleting ground water from excess rain is resulting in potential drought risks over the next few months. The geology of the Northeast is very different than that of the western United States, so year to year rainfall does not have long-last effects. Dry vs. wet conditions are quite a bit more variable in the east and therefore the recent dry spell is already having consequential effects. Long range guidance suggests continued dry periods ahead with QPF at or less than .5in for the next 16 days over much of the Northeast in a continued progressive unamplified jet.

Here is a link to the criteria for fire development... Link.

Criteria for rapid initiation and spread of wildfires:

1. Winds must be sustained at 15 mph (13 knots) for two hours or more, and

2. Minimum Relative Humidities (which usually occur in the afternoon) must be 30 percent or less, and

3. 10-hour Fuel Moistures must be 15 percent or less (and expected to remain there for two or more days).

"Fire Outlooks from Storm Prediction Center Days 1, 2, and 3"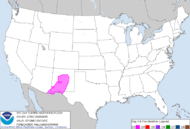 (Courtesy of NOAA)

"Gardening Outlook" (Updated 3/29)
March will likely prove to be one of the warmest March's on record for much of the contiguous United States courtesy of nearly persistent ridging across the middle and eastern portions of the nation. The jet stream has allowed much of the colder air to linger across the extreme polar regions. The lack of polar and arctic air this winter has allowed for a very 'early spring' to reach the Northeast. Many plants are nearly 2-3 weeks ahead of schedule for blooms including flowering fruit trees many of which are already past peak. The warm temperatures have also allowed many animals to come out of hibernation earlier than normal. Both of these factors set the stage for a possible dangerous situation should a rapid freeze affect much of the Northeast in the coming few weeks. The lack of cold temperatures in the winter will also allow an increase in tick and mosquite populations along with other insects and pathogens which may wreak havoc on local farmers. Anytime anomalous temperatures dominate the weather pattern for an extended period of time will result in major agricultural problems.

Given the mild temperatures during the past few weeks, I was able to plant a few crops in my vegetable garden raised beds. For those unfamiliar, my vegetable garden consists of 5 raised boxes with a mixture of hummus/manure, peat moss, garden soil combination. I also have a side in-ground bed consisting of several berry bushes (which I have no luck with, lol). After adding a few organic feeds to the soils and doing the seasonal turning of the soils, I planted my onion sets, parsley, broccoli, lettuce, peas, and radishes. After my issue of overcrowding last year, I am constructing lines of strings between each crop for extra organization in the garden. I will post pictures later in the spring.

This past week's freeze did seem to kill many of the flowers on the fruit trees, but overall other damage looks limited. Looking ahead another frost/freeze is likely Monday night as far south as central Maryland. And even farther ahead, the pattern is showing signs of cooling down across the east with in fact prognostics indicating quite a cool (winter-like?) start to the month of April. This may pose many problems for the early 'green-out' for much of the Northeast particularily in New England where temperatures in the 80s may be followed by several chances of snow in the coming weeks. It is still uncertain if there will be any long term effects environmental effects this summer from this recent warm winter, but according to experts it appears like most plants and animals seem to have adapted fairly well. The concern for farmers in the coming weeks will be watching very closely the threats for frosts.

Also as a side note, very dry conditions particularily towards New England have been recorded during the last two months. While not of immediate concern currently, there may be the potential for drought possibilities given a quick look at the long range. Stay tuned.

"Soil Moisture Anomalies and 5-day Precipitation Amounts from Hydro Prediction Center"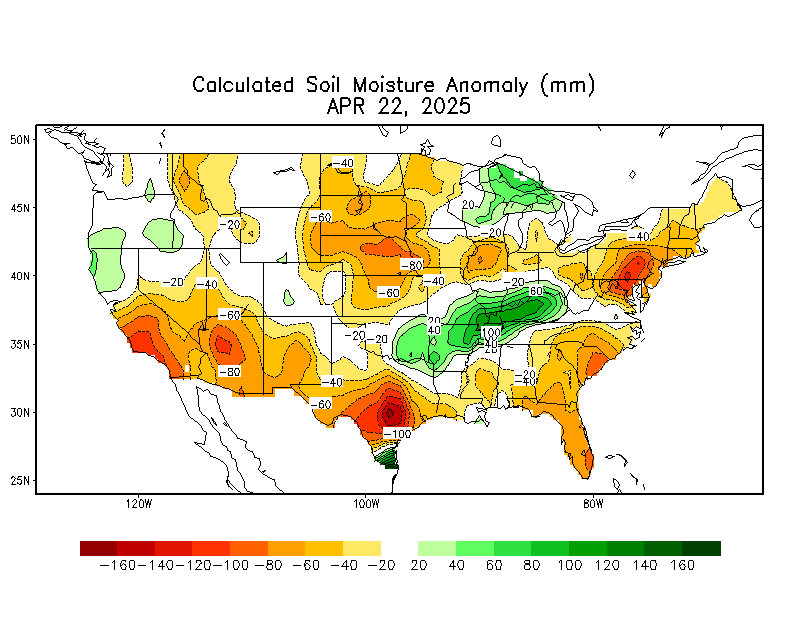 (Courtesy of NOAA)

"Severe Weather Outlook" (Updated 3/29)
Severe weather chances for the Northeast look limited over the next two weeks, which is to be expected for the Northeast given climatological odds. But the pattern over the entire United States suggested a potential active several week period is possible. The one limiting factor is the relatively progressive flow and inactive jet stream. But an increasing thermal gradient will likely polarize across the Midwest given the expected cool down in the east and warm up in the west and central plains. In fact the latest GFS and ECMWF operational and ensemble runs indicate a few instaneous examples where H85s approach -15C towards Chicago meanwhile while areas from Pennsylvania on northward are at or below 0C. This sharp gradient will likely be the catalyst for several severe weather outbreaks over the Midwest during the next few weeks. In the shorter term severe weather parameters are shaping up for a particularily active period as a cold front advances across the nation on Sunday and Monday. Keep an eye on areas in the deep south and along the Mississippi Valley where squall line development is possible given the latest prognostics. Farther east, a stable cool layer will prevent all thunderstorm development for the Northeast.

"Severe Weather Outlooks from Storm Prediction Center Days 1, 2, and 3"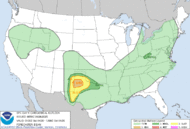 (Courtesy of NOAA)

"Monthly Outlook" (April)
Long term peristence argues for once again mild temperature anomalies for much of the Northeast. But the warmth will be subdued for monthly averages courtesy of a likely cold period for the first two or so weeks of April. The current teleconnection pattern suggests a chance of a west-based -NAO allowing likely a weak trough to form over the east. This will likely result in several backdoor cold fronts with the coldest anomalies for those farthest north. The AO is also forecast to approach neutral or negative values suggesting that colder air will become more available to parts of North America in the coming two weeks. This also corresponds will the predicted Madden Jullian Oscillation phase changes. Recent NAEFS output also indicates cooler temperatures for the east coast. Overall roll-over techniques highlight that this will likely be short-lived with warmer temperatures headed back towards the region for the second half of April. Therefore the month will not feature a below normal departure for temperatures.

Temperatures- Anomalies ranging from (+)1.0-(+)2.5 for most all climatological reporting sites in the Northeast. Cooler temperatures will prevail earlier in the month with milder air for the second half likely giving way to a well above normal temperature pattern as we approach May.

Precipitation- Precipitation will likely be average below normal for stations across the Northeast fueled by a continued inactive jet and progressive pattern. Long term ensemble output indicates drier conditions persisting through the early summer.

"Temperature and Precipitation Outlooks from Climate Prediction Center for next 30 days"


(Courtesy of NOAA)

Lower Susquehanna Valley Doppler...


(Courtesy of WGAL)

Follow my 24hr forecasts on Twitter... Link and Facebook... Link.

"Linglestown, PA 2012 statistics"
(Severe Weather Stats...)
Severe Thunderstorm Watches- 0
Severe Thunderstorm Warnings- 0
Tornado Watches- 0
Tornado Warnings- 0
Total Thunderstorms- 3

(Precipitation Stats...)
Flash Flood/Flood Watches- 0
Flood Warnings- 0
Flash Flood Warnings- 0

(Temperature Stats...)
Heat Advisories- 0
Excessive Heat Warnings- 0
90degree days- 0
Highest Temperature- 78F
The views of the author are his/her own and do not necessarily represent the position of The Weather Company or its parent, IBM.
Reader Comments
The Northeast Weather Blog...
Previous Entries for 2017