Summer 2012...
Summer 2012 is about to begin according to the meteorological calendar with only less than one month to go. We are also entering that point in the spring season where temperature and precipitation patterns are beginning and generally will lag through most of the summer. It is important to note several simple, but important characteristics during the summer months to help procede with a forecast. Over this period in the year, the polar jet surges to the north locking the cold air across the immediate poles. This allows for a less-amplified and generally meager subtropical jet to linger across the southern United States occasionally throughout the summer, but generally its influences are not noticeable.



(Source: North Carolina State University Meteorology Department)

This orientation prevents most all middle-latitude cyclone development. Therefore the primary precipitation initiators are along associated weak shortwaves and cold fronts. Also warm-core tropical systems play a large role in precipitation trends across the nation later in the summer. This jet stream setup prevents most organized precipitation events occuring over a wide region and therefore regions must rely on convective QPF patterns to receive rainfall. Conditions during the summer are generally drier than the other months of the year. Also given several factors representing seasons, warmer air is funneled across much of the nation with tempereatures upwards of 100F during heatwaves across the Northeast.

Summer patterns are generally more benign than the winter months and therefore less anomalous for the most part.

If one looks at recent decadel trends, average summer means are generally on the positive side regionwide. The last below normal summer for the contiguous United States was 2009 featuring the 34th coolest mean on record. 2011 featured the second hottest summer on record for the United States, especially courtesy of the anomalous heat wave across the southwestern United States.



(Source: NOAA NCDC)

Teleconnections and ENSO regimes have less of an impact on mean conditions across the United States in summer than during the winter months. Therefore direct correlations are a tad more difficult to make especially given an ENSO regime change that will occur this year. The current La Nina (or past La Nina given conditions are no longer being met) will begin to shift towards an El Nino. The image below is the current CFS output for Nino region 3.4 indicating El Nino conditions peaking towards late summer and early fall.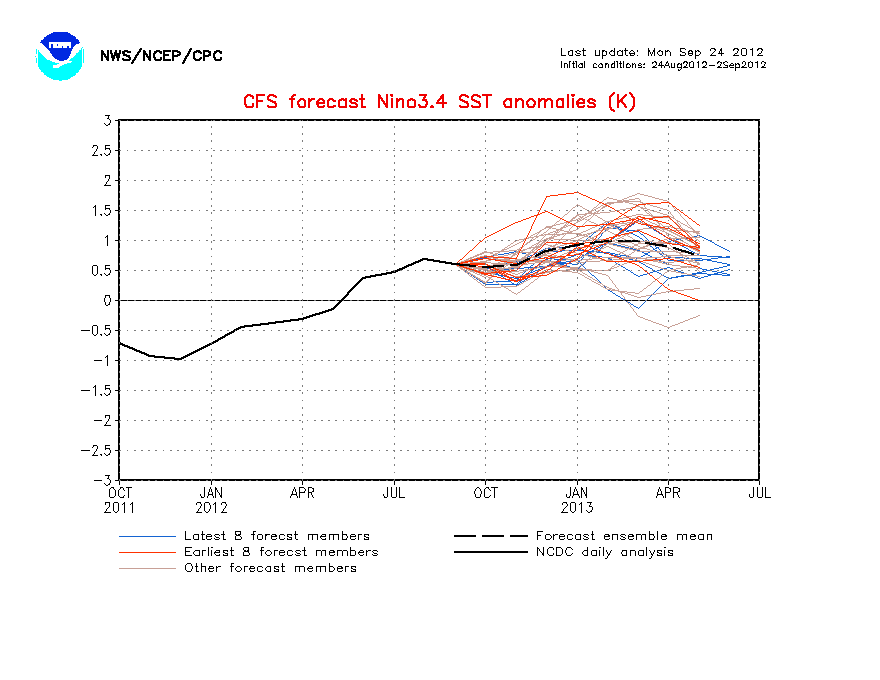 (Source: NOAA CDC CFS)

A study produced by Zhuo Wang, C-P. Chang, and Bin Wang by the Naval Post Graduate School and University of Hawaii reported small correlations for ENSO regimes during northern summers. Link. The findings were generally consistent and noted weak correlations particularly during El Nino summers, while La Ninas featured a dominate and anomalous anticyclone over the central United States. Summers generally were hot nationwide during a La Nina and quite dry across the central United States.

Looking more specifically at teleconnections including the NAO, MJO, etc is not as helpful in the summer. While there is some research to indicate correlations towards temperature and precipitation trends, these studies still do not have clear results.

Another correlation many forecasts like to highlight are temperature trends from the winter and extropolated to summer. Again this correlation is backed by undefined research and statistics. But it is important to note that by late spring, patterns have often set up and become very stagnant for the following few months. Given the recent anomalous warmth (excluding the April cold spell/snowstorm) and dry conditions, it is likely that we may see a continuation of this pattern as we move foward into summer.



(Source: US Drought Monitor)

Drought conditions are already developing across portions of the Northeast despite short term relief from a few synoptic precipitation events over the past week or two. Long term departures are well below normal particularily across much of New England.

This summer forecast will generally be loosely based on the current ENSO status and recent temperature/precipitation trends across the Northeast. While a simplistic forecast in itself, summer forecasts are typically of lower confidence than other times in the year.

While La Nina continues to diminish as we enter neutral conditions presently, SST anomalies are beginning to warm into El Nino ranges according to the latest SOI numbers. Temperature means this summer have a higher likelihood of averaging above normal especially following rollover techniques from the previous 90 days. But without defined ENSO forcing and meager teleconnection influence, I would expect the heat to be more benign than the record warmth during 2010 and 2011. Extended heat waves will be less common than last summer, but a few days of touching 100F cannot be ruled out for the Northeast metropolitan corridor. The hottest conditions are also more likely to persist earlier in the season before the El Nino really begins to intensify.

Current CFS operational output supports a near normal temperature regime for the summer months, but again looking at the latest trends, above normal temperatures are of a higher possibility.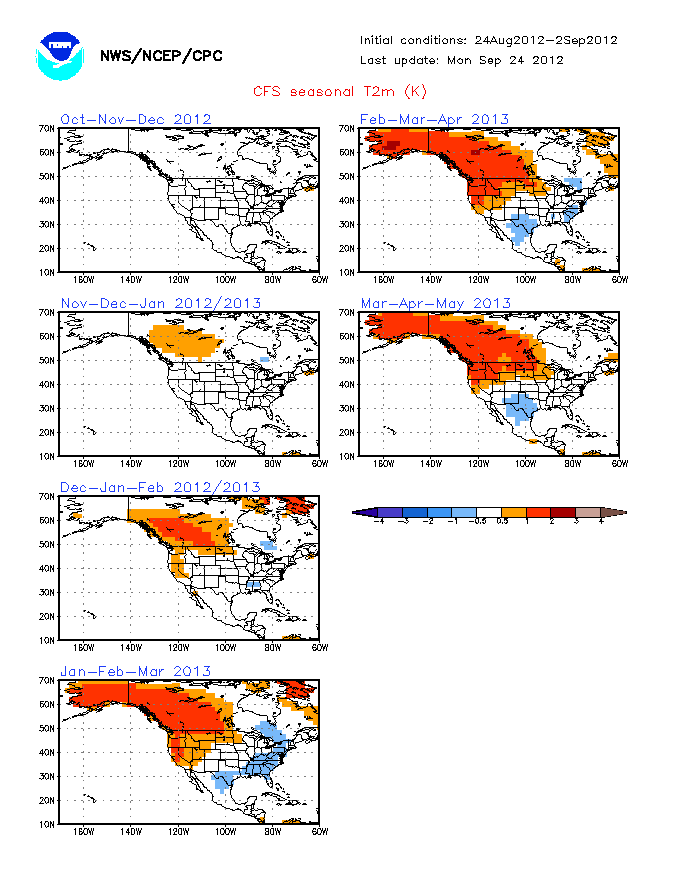 (Source: Climate Prediction Center NOAA)

Precipitation will likely be the bigger news story if the set pattern continues over the next few months. With deficits already greater than 5in+ for the year for some climatological reporting stations, these numbers will likely continue to grow. Drought conditions will worsen, although extreme drought conditions are unlikely. There are no indices and trends signaling any extreme dry weather. Convective precipitation will play a big role and cause localized areas of normal precipitation in some areas.

For hurricane frequency along the east coast, there is nearly a 50/50 probability for a strike. I know this sounds silly, but that is how probability and statistics is used in the meteorological field. There are no definite trends leaning for or against a higher probabilty of an east coast landfall. Current ENSO by early Fall signals that this hurricane season will be quieter than normal.

In general this summer has a higher likelihood to feature slightly above to above normal temperatures with a chance for below normal precipitation for most of the Northeast.

Twitter... Link and Facebook... Link.

"Linglestown, PA 2012 statistics"
(Severe Weather Stats...)
Severe Thunderstorm Watches- 0
Severe Thunderstorm Warnings- 0
Tornado Watches- 0
Tornado Warnings- 0
Total Thunderstorms- 9

(Precipitation Stats...)
Flood Watches- 0
Flood Warnings- 0
Flash Flood Warnings- 0

(Temperature Stats...)
Heat Advisories- 0
Excessive Heat Warnings- 0
90degree days- 0
Highest Temperature- 89F


The views of the author are his/her own and do not necessarily represent the position of The Weather Company or its parent, IBM.
Reader Comments
The Northeast Weather Blog...
Previous Entries for 2017