Unsettled pattern...
"Afternoon Thoughts" (Updated 5/1)
Good Thursday evening!!! Pretty quiet weather day other than a few showers/sprinkles with the warm front that is moving northward. The sun was in and out making for highs still cool and in the 50s. Yesterday it was much colder with snow showers widespread in western Pennsylvania in the morning hours as far east as State College. That will probably be the last flakes of the season. This evening I updated the near term, short term, severe weather outlook, and regional forecast sections to accompany a more detailed forecast for this unsettled weekend. For next week look for the same weekly blog format. But next Sunday the Winter Recap Blog Part II will debut. Have a great rest of your day!!!

"Regional Radar"


(Courtesy of NOAA)

"Regional Satellite"


(Courtesy of Penn State Meteo.)

"Near Term Forecast" (Updated 5/1)(Friday)
For Friday the warm front will continue to lift northward. Combined with some sun instibility and increasing dewpoints scattered showers and thunderstorms may form, especially in the afternoon hours. Most of the action should be up in northern Pennsylvania due to the closer proximity to the warm front. But still in southern Pennsylvania where instibility is higher, pulse thunderstorms may be a threat. Temperatures will range from the lower 60s in the north to the mid 70s in the south. Cloud cover should be thick in the north with ceilings around 5000ft. In the south a broken cloud deck of cirrus and building cumulus will be prevelant. Aviation conditions will range in the northwest around MVFR and in the south in areas that see thunderstorms IFR may be the primary condition. Overall though a relatively nice day to end a busy work week.

"Regional Advisories"


(Courtesy of NOAA)

"Short Term Forecast" (Updated 5/1) (Saturday through Sunday)
Saturday through Sunday will be an active period with more of the instibility showers/storms ahead of the approaching cold front. Highs on Saturday will be in the low 70s to low 60s. And for Saturday night lows will be a mild upper 40s to low 50s. Sunday the front will approach with a thickening cloud deck limiting convection. More rain showers can be expected. Total rainfall amounts should not be too significant, especially in areas that do not necessarily see thunderstorms.

"Current Surface Map and Weekly History of Jet Stream Position"


(Courtesy of Weather Underground)

"Long Term Forecast" (Updated 5/1)
Well for the first time in a while I looked at the long term global models. It seems to be that we are going into a very unsettled typical "April Showers" type of pattern. With seasonable temperatures also throughout the period. My May outlook will be coming out this coming Sunday and will take care of the extended long term outlook.

"Wildfire Outlook" (Updated 4/28)
Well finally after a long dry period for many northern Pennsylvanians the time has come of renewed moisture. There were many brush fires last week and even some large forest fires in Clinton County. For the next week fire concerns are at utmost minimum.

"Fire Outlooks from Storm Prediction Center Days 1, 2, and 3"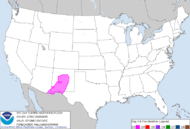 (Courtesy of NOAA)

"Gardening Outlook" (Updated 5/1)
Cooler conditions will persist throughout this workweek. Areas north of the I-80 corridor may even be dealing with a few snow showers. Temperatures may drop below freezing due to cold-air advection. But frost will be limited because of the consistent northwest wind. So for northern Pennsylvania please cover your fragile vegetable plants that do not agree with below freezing temperatures. As far as moisture content of soil. It should remain high throughout the week after a few widespread rainfalls. Tuesday will still be cloudy with a few rain showers. And then come next weekend another stalled front moves in adding more rain. For the next 5-day period including today a widespread 2-2.5inches of rain should fall. Now is the time to get planting, especially for cool season vegetable gardens. An update on my vegetable garden, I am in the process of constructing two raised bed gardens for an expansion to my current small vegetable garden. My lettuce is on its 3rd harvest soon and my spring onions are getting very large. I did pull one to taste it and it was wonderfully sweet. My blueberry bushes are budding and my pea seeds are now sprouting above the soil. In my additional vegetable garden I hope to grow more veggies and herbs.

"Soil Moisture Anomalies and 5-day Precipitation Amounts from Hydro Prediction Center"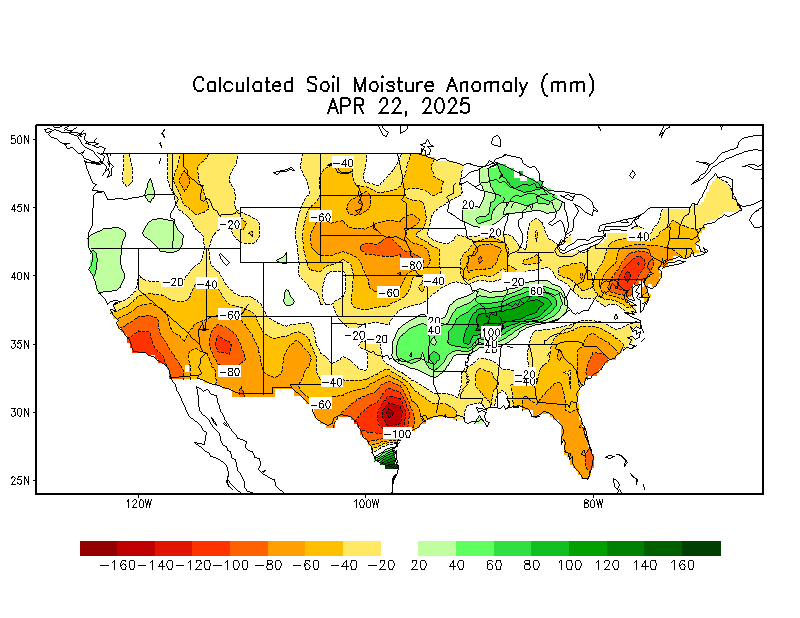 (Courtesy of NOAA)

Average Pennsylvania last freezes...


(Courtesy of PSU meteorology)

"Severe Weather Outlook" (Updated 5/1)
Severe Weather chances are still relatively low in the next upcoming days finishing out the week. But thunderstorm chances are definitely on the increase. As the warm fronts continues to lift northward across Pennsylvania a southwesterly mild flow will begin to form. Dewpoints and temperatures will be on the rise Friday. Lapse rates are relatively weak, but CAPE values do exceed around 500. Also with combined sunshine instibility may be just enough to develop some pulse type thunderstorms. PWAT's are still relatively low for Friday so flash flooding should not be a threat. But any strong updrafts in the individual cells may be just enough to bring down some pea sized hail as freezing levels are between 9000ft and 10000ft in the atmosphere. Only the strongest of the cells may be capable of this, but overall threat is near nonexistant. For Saturday CAPE values increase again to 500 to 600 with instibilty about equal to Friday. But overall widespread thunderstorms are not likely. For Sunday CAPE values weaken to around 100-300 with more clouds also so instibilty will be limited with the frontal passage. So the severe weather threat is minimal due to little instibility during time of frontal passage.

"Severe Weather Outlooks from Storm Prediction Center Days 1, 2, and 3"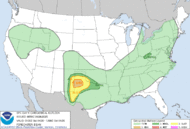 (Courtesy of NOAA)

"Monthly Outlook" (April)
Well Spring is officially here though it may not feel like it outdoors with the cold northwest brisk wind and snow falling from an Alberta Clipper. But spring is here and winter is just producing some last gasps. For eastern areas after April 10 usually no more snow falls. In central areas the date is usually around April 15, and in western areas it is usually around the 20th of April. In the northwest mountains and Laural Highlands snow can be recorded throughout all of April. But as the old saying goes "April showers bring may flowers" so hopefully this April will not be as dry as past Aprils. Here is my Outlook for April...

Precipitation- Overal the long term pattern favors a very active midwest storm track putting Pennsylvania on the warmer and more cellular in precipitation side of the storm. I believe April precipitation will be above normal statewide with many days with showers and thunderstorms. Also after these coldfronts move through it will get colder with lake effect snow showers in the mountains. As far as snow, it will be the same areas that have seen snow all winter will get more snow. I do not expect hardly any snow in the south and east. But I believe snowbelts will recieve possibly above normal snowfall. For rainfall it appears to be above normal in all areas with some areas in the southeast possibly recieving several inches more of rain than average. Severe weather may also be a factor in the later half of the month.

Temperature- For temperatures they will probably average near normal to slightly below normal. The long term shows slight greenland blocking with a neutral NAO favoring cool conditions over the state. But during times when storms head west of region warmer air will move into Pennsylvania. But I believe by the end of April temperatures will be above normal with the southeast ridge affecting our region. This year may be a year with a jump from winter to summer with only a little spring.

"Temperature and Precipitation Outlooks from Climate Prediction Center for next 30 days"


(Courtesy of NOAA)

"Regional Forecasts" (Updated 5/1) (Friday)
1. Eastern- (Allentown, Southern Poconos)-
A few showers and isolated thunderstorms. Partly cloudy to mostly cloudy. High 75.

2. South Central (Harrisburg, York, Lancaster)(my home)-
A few thunderstorms. Partly cloudy to mostly cloudy. Humid. Hazy. High 76.

3. Southern- (Philadelphia)-
An isolated thunderstorm in region. Humid. Hazy. Pollution levels on rise, smog. High 78.

4. Central- (State College)-
Scattered thunderstorms. Slight chance of small hail. Warmer and more humid. High 70.

5. Northern- (Erie, Bradford, Williamsport)-
Rain showers and isolated thunderstorms. Rainfall less than .25inches. High 60.

6. Western- (Pittsburgh)-
Scattered thunderstorms. Slight chance of small hail. Rainfall less than .1inch. High 73.

7. Johnstown, Altoona-
Scattered thunderstorms and showers. Mostly cloudy. High 64.

***Note on regional map, the number equals which region in Pennsylvania. I chose regions with similar climates, geography, and elevation to make my overall forecast for the region.



"Here north of Harrisburg 2008 statistics"
(Severe Weather Stats...)
Severe Thunderstorm Watches- 0
Severe Thunderstorm Warnings- 0
Tornado Watches- 0
Tornado Warnings- 0
Total Thunderstorms- 9

(Precipitation Stats...)
Flood Watches- 2
Flood Warnings- 3
Monthly Precipitation- 3.32inches
Yearly Precipitation- 13.66inches

(Temperature Stats...)
Heat Advisories- 0
Excessive Heat Warnings- 0
90degree days- 0
The views of the author are his/her own and do not necessarily represent the position of The Weather Company or its parent, IBM.
Reader Comments
The Northeast Weather Blog...
Previous Entries for 2017