Severe Weather Outbreak June 23
"Thoughts on Severe Weather Outbreak of June 23"
Good Monday morning!!! Well I want to take time to recap a little from yesterday's severe weather and below is my verification map to see how well my forecast turned out. Well what a bust of a day. Severe weather did not really impact the areas the had the highest severe weather parameters. Now I am not too upset with my forecast as I was going to issue a slight risk for the whole region, but upgraded to a moderate risk due to the isolated tornado threat. What actually happened was pulse thunderstorm like supercells developed in southcentral Pennsylvania where large hail and damaging winds occured. Also in northwest Pennsylvania an isolated severe weather report occured. A CAP occured across much of Pennsylvania. The jet stream's position surpressed much of the activity. Overall my forecast was not too good, but really I was expecting this. The SPC yet again really had a bust of a day too. For today another severe weather threat is upon us in Pennsylvania. Later in the evening though a line of thunderstorms moved across western Pennsylvania into Cambria County sparking a severe thunderstorm warning and a hail report of 1inch in the county. Today I expect more thunderstorms to form than yesterday with most of them very capable of becoming severe with hail being the primary threat. As we saw yesterday hail was quite common with even 3inch diameter hail reported in New Hampshire and over 2inch diameter hail in West Virginia. Tornadoes are a slight threat again today, and yesterday too funnel clouds were reported in parts of New York State. Here is yesterday's verification map...



"Current Weather Setup"
Yesterday the ingredients were there, except for a triggering mechanism. There were three shortwaves or pieces of energy that triggered severe weather in Ohio, Virginia, and New England. All Pennsylvania received was some severe pulse thunderstorms in the southcentral part of the state. Now today things are a little different as there is a large convergence zone over the northeast as areas of shortwaves and upper-levels lows. In this case severe weather will be more widespread over the state of Pennsylvania. Storms will likely fire in two locations today. One in eastern Ohio and western Pennsylvania ahead of the actual cold front. And a second firing zone along the right quadrant of the jet stream entrence which will be found in eastern Pennsylvania. In between these two zones will be just pulse thunderstorms. Severe weather parameters for the day are a little more impressive than yesterday. Bulk shear values are around 50knots and up to 60knots in eastern Pennsylvania. Freezing levels are around 9kft which is prime for large hail development. Also the cold pool aloft will again be focused over the region. Shear levels winds though 0-4kft are low at around 20knots. Today's dewpoints are slightly higher than yesterdays as they are in the mid 60s in many areas. But as we saw yesterday the dewpoints do not really inhibit heavy rain producers. PWATs are several deviations above normal around 1.5inches in eastern Pennsylvania. The PWATs get lower moving west across Pennsylvania. CAPE values today should get around 2000 j/kg at the max heating of the day. Already CIN is noticeably lower than it was yesterday so there is less CAP on the atmosphere. Lapse rates look adequate for severe weather. Storm organization for today looks to be mainly cellular with some multicellular storms. All storms should move in a southwest to northeast direction. The LI index today is around -4 similar to yesterday and the SWEAT index is around 250 and that is centered over western Pennsylvania. So for today several zones or boundaries will be where the storms will fire. Areas not in these zones will most likely stay dry similar to yesterday. Severe weather will not be widespread but more of a scattered variety with concentrated areas of storm reports. Stay tuned for more atmospheric soundings throughout the day.

"Current Advisories"



"Current Satellite"


(Courtesy of Penn State Meteorology.)

"Current Surface Map and Weekly History of Jet Stream Position"



"Radar for Western Pennsylvania"


"Radar for Central Pennsylvania"


"Radar for Eastern Pennsylvania"



"Forecasts from Storm Prediction Center"
DAY 1 CONVECTIVE OUTLOOK
NWS STORM PREDICTION CENTER NORMAN OK
0731 AM CDT MON JUN 23 2008

...OH VALLEY/APPALACHIANS TO THE EAST COAST...
PERSISTENT UPPER TROUGH OVER THE GREAT LAKES AND OH/TN VALLEY
REGIONS THIS MORNING IS ALREADY BEGINNING TO ACCELERATE/MOVE
EWD...AND MODELS BRING TROUGH ACROSS THE LOWER LAKES/APPALACHIANS
THIS EVENING. AS HAS BEEN THE CASE THE PAST FEW DAYS...A LARGE AREA
OF SEVERE THUNDERSTORM POTENTIAL WILL DEVELOP AHEAD OF THIS FEATURE
FROM THE CAROLINAS NWD INTO THE UPPER OH RIVER VALLEY/NEW ENGLAND
TODAY. ACTIVITY WILL ONCE AGAIN DEVELOP IN SEVERAL EPISODES AS
HEATING AND DEEP ASCENT/COOLING ALOFT PROVIDE INCREASING INSTABILITY
THROUGH THE AFTERNOON...DESPITE WIDESPREAD AREA OF MOIST
CONVECTION/CLOUDS ALREADY IN PLACE OVER THE REGION. LOW LEVEL FLOW
WILL REMAIN FAIRLY WEAK...ALTHOUGH MODERATE SWLY WINDS ALOFT WILL
SUSTAIN 25-35 KT DEEP LAYER SHEAR. THIS WILL SUPPORT ORGANIZATION
INTO LINES/CLUSTERS AND POSSIBLY A SUPERCELL OR TWO...PRODUCING
LARGE HAIL AND DAMAGING WINDS.

LOW LEVEL SHEAR MAY BE A BIT STRONGER EAST OF SURFACE TROUGH
EXPECTED THIS AFTERNOON OVER WRN NEW ENGLAND/HUDSON RIVER VALLEY
INTO CENTRAL VA...WHERE MORE SLY SURFACE WINDS WILL BE COMMON. THIS
SURFACE TROUGH WILL LIKELY FOCUS A MORE ACTIVE CORRIDOR OF
STRONG/SEVERE THUNDERSTORMS FROM THE NRN CHESAPEAKE REGION INTO WRN
NEW ENGLAND. ANOTHER MORE ACTIVE REGION SHOULD BE ASSOCIATED WITH
ENERGY/SHORTWAVE TROUGH DIGGING ESEWD ALONG BACK SIDE OF BROADER
TROUGH AS IT SPREADS ACROSS THE UPPER OH RIVER VALLEY/CENTRAL
APPALACHIANS. HOWEVER...OVERALL SCENARIO WILL LIKELY BE QUITE MESSY
ONCE AGAIN WITH ISOLATED SEVERE THUNDERSTORMS DEVELOPING WITH WEAK
FOCUS THROUGH THE PERIOD.

"Tornado Risks"


"Hail Risks"


"Wind Risks"



"Model Analysis"
The models have been have many struggles with this entire system the last three days. Yet again they do not agree at all. The NMM model intiation is very poor with it indicating only about a CAPE max of 500 j/kg. But it's simulated radar seems to have a good handle on the pop up thunderstorms do I decided to post it along with the other models below. The SREF which did pretty well yesterday is showing CAPE of 1500 j/kg in southeastern Pennsylvania. But I think that number is a little to low and will be more like 2000 j/kg. The GFS is inbetween the NMM and SREF with about 1000 j/kg over most of the area. The NAM model though is around 1500 j/kg to 2500 j/kg across much of the state of Pennsylvania. As a resolution it looks like a nowcast type of forecast in which it is a wait and see type of game. The short term RUC model though seems to be handling the system perfectly. But it is hard to forecast by the RUC model because it only goes out to 12 hrs. With using the RUC model it is a near term type of forecast with putting all the details together. So for today I took into the forecast mostly surface map analysis with the latest mesoanalysis from the SPC, the latest Skewt T soundings, the NAM/SREF model, and past history of the storm. Yet again today could be another bust day of a forecast as it is very hard to tell where storms will fire up as there is no distinct triggering mechanism. Just about any area could see severe thunderstorms today. I would say the southcentral mountains region would be the most likely area for initial storm development. Below are all of the Monday morning model runs.

"3z SREF Model Forecast Max Cape Index"


(Monday afternoon)

"12z NAM Model Forecast SWEAT, Helicity, and CAPE indices"


(Monday afternoon)

"0z NMM Model Future Simulated Radar"


(Monday afternoon)

"My Forecast for Severe Weather"
As the piece of energy moves through Ohio it will spark thunderstorms across western and central Pennsylvania today that will gradually move east. Today all of the storms will have a southwest to northeast fashion though. Storms that intially develop in the southern Appalachian mountains in West Virginia and Virginia will move northeast up into eastern Pennsylvania. It appears the northern mountains region will have the least amount of storms making there threat of severe weather only slight. For the rest of the region they are under a moderate risk due to the isolated threat of tornadoes, quite large hail, and some isolated damaging winds. Remember my moderate risks due not have the same meaning as the SPC's moderate risk. My risk levels are usually are step above what the SPC predicts due to the fact that severe weather is more uncommon in Pennsylvania and sometimes people are not aware of the threat. Throughout today I expect most of the state under some type of severe thunderstorm watch as was the case yesterday. Stay tuned for many updates through the day today. Keep your NOAA weather radio on and stay tuned for the latest updates from your local NWS and local News Media.

"My Severe Weather Risk Map"


(Monday)

"Conclusions on Severe Weather Outbreak"
Looking ahead towards the future. This is the last severe weather threat for several days. Now for Tuesday I cannot rule out some hail reports due to the daytime instibility and cold pool aloft. For Wednesday things will quiet down. But potentially for Thursday night an MCS complex from the midwest could move across the state with some nocturnal thunderstorms. MCS usually are capable of some intense lightning and heavy rain. For Friday things will become unsettled with some scattered thunderstorms as the heat and humidity increases ahead of the next cold front. For Saturday severe weather could be a large threat as another strong cold front moves through with a deep upper level trough behind it. The SPC is already talking about the threat in their long term discussion...

A SEVERE WEATHER THREAT WILL LIKELY GRADUALLY
INCREASE/DEVELOP EASTWARD ACROSS THE OHIO VALLEY/NORTHEAST STATES BY
THIS WEEKEND...WITH DAY 6/SATURDAY CURRENTLY SEEMING TO HAVE THE
GREATEST POTENTIAL FOR WIDESPREAD SEVERE TSTMS ACROSS THIS REGION.

Stay tuned for the latest updates throughout the week as we are getting into the heart of severe weather season here in Pennsylvania. Have a wonderful Monday!!!

"Storm Reports"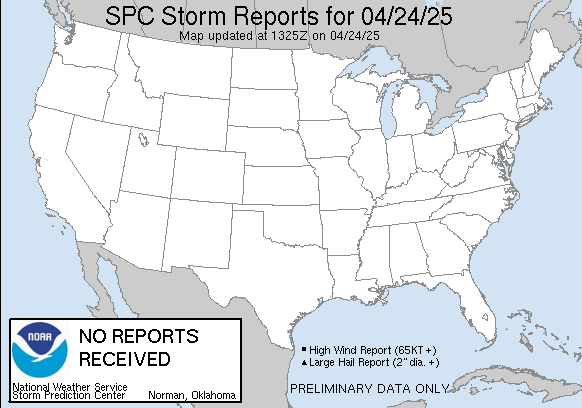 "Here north of Harrisburg 2008 statistics"
(Severe Weather Stats...)
Severe Thunderstorm Watches- 3
Severe Thunderstorm Warnings- 1
Tornado Watches- 1
Tornado Warnings- 0
Total Thunderstorms- 13

(Precipitation Stats...)
Flood Watches- 4
Flood Warnings- 3
Monthly Precipitation- 2.97inches
Yearly Precipitation- 21.04inches

(Temperature Stats...)
Heat Advisories- 4
Excessive Heat Warnings- 0
90degree days- 5
The views of the author are his/her own and do not necessarily represent the position of The Weather Company or its parent, IBM.
Reader Comments
The Northeast Weather Blog...
Previous Entries for 2017