Tropical development off Africa continues to be possible 7/26/10
Afternoon all! The tropics continue to be inactive, thanks to a slight downward MJO pulse across the Atlantic but there are some areas to watch the upcoming week. There is currently a nice flareup of thunderstorms just off the Yucatan border, this area has some good amount of convergence and divergence associated with it, however development is unlikely. No model support for this disturbance and it is monsoonal in development, being once it gets over the BOC it will run out of land and dissipate over Mexico before being able to develop a surface circulation, similar to 98L. I do not expect development out of this system but it is a feature to watch in the lull of activity we are experiencing currently. This lull won't last, every model is now at least hinting a tropical wave with a area of low pressure to develop off the coast of Africa in the 130-180 hour time frame. The 00z ECMWF doesn't really do much with the wave, other than shows increased 850 mb vorticity and kills it off. The CMC shows a borderline wave/TD, the GFS parallel shows a 1010 mb low with the system but doesn't look too organized with the convection being within the ITCZ. The GFS operational attempts to show a low and kills it off, the NOGAPS shows a Tropical storm in 84 hours. The setup is interesting to say the least, this is the time of year we would look for development off the African continent and should be watched closely, the Bermuda high is very strong and the long range GFS has been showing a very Ivan like system riding the ITCZ as a strong tropical storm. That scenario is unlikely to happen as its almost two weeks out, but its showing that conditions are favorable for something to develop.

Meanwhile, there is a tropical wave out in the CATL that the ECMWF is been 'hinting' and showing mischief still, this area was my main area of interest yesterday and the ECMWF has pretty much backed off on development, but this could be very similar to the way Bonnie formed as this low has a huge moisture field and is completely naked in convection. This low however won't have a problem with the ULL and will be interesting if this goes into the Caribbean as conditions will likely be favorable. I'd like to note that the shear in the Caribbean has been running well below average for almost two months, the TCHP has been very high too. This could get interesting.

Lets talk MJO, no not mojo, MJO or the Madden–Julian oscillation. The GFS earlier was prediction a very significant downward MJO pulse so strong it would have been pretty much impossible for convection to get going anywhere in the basin, it has backed off significantly showing yet again the return of MJO in the Atlantic.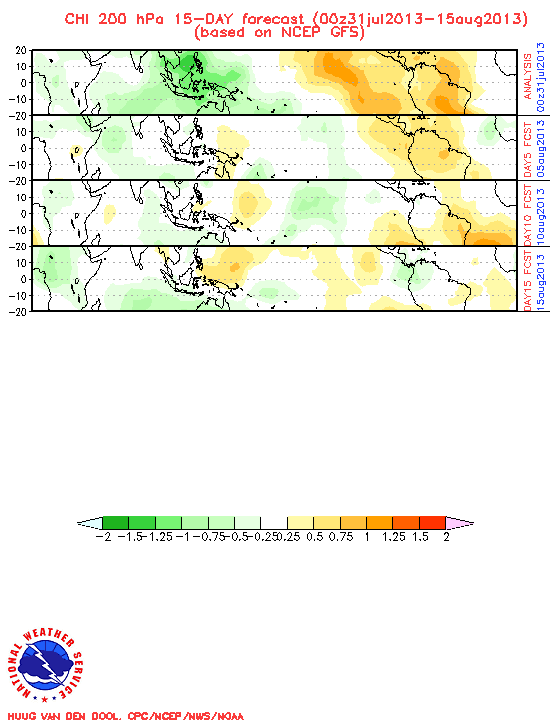 The MJO propagation into other basins has already began to falter significantly, it can't break octant 3 as all the heat is stored in the Atlantic, much more so than in the other basins. La Nina has pretty much caused all the heat to go into the Atlantic and the anamolies in the Pacific are quite cool.




I think this scenario by the UKME will be the one verifying, you can see how the MJO falters like it is doing right now then quickly swings back to octant 1 and 2, which is where you would want to see it for the Atlantic.




I'm telling you guys this though, the ones who are dud-casting this season your going to be in for one heck of surprise. This season won't be a dud, its just not going to happen. We will see at LEAST 15 storms, which would be 5 storms above average and in my boat a very active season. We will not see 20+ named storms, if that where to happen we would have had to see 5 named storms by now, obviously we're above average but at 2. I think we're going to see 17 or 18, and the signals the Atlantic are sending us are quite disturbing.

CybrTed
The views of the author are his/her own and do not necessarily represent the position of The Weather Company or its parent, IBM.
Reader Comments
Comments will take a few seconds to appear.
Post Your Comments
Please sign in to post comments.
Not only will you be able to leave comments on this blog, but you'll also have the ability to upload and share your photos in our Wunder Photos section.
CybrTeddy's tropical weather blog
Local Weather
64 °F

Mostly Cloudy
Previous Entries for 2017
Recommended Links
Personal Weather Stations
Waterford Lakes

Orlando, FL

Elevation:
122 ft
Temperature:
78.4 °F
Dew Point:
63.4 °F
Humidity:
60%
Wind:
Calm
Wind Gust:
3.0 mph

Updated: 5:28 PM EST on February 14, 2017