2012 Atlantic Hurricane Season Birdseye Discussion #75
...AUGUST 10 2012...6:45 AM EDT...
Ernesto turned southwestward more than expected...hence making landfall into southern Mexico yesterday afternoon a little earlier than expected. This prevented the tropical storm from becoming a hurricane...but a significant flood threat looms for southern Mexico. See Ernesto special feature section for further details.

Elsewhere...Florence's remnant still being watched for re-genesis into a tropical cyclone...and tropical wave Invest 92-L has strengthened into tropical depression seven during the last 24 hours. Cape Verde Islands need to monitor strong tropical wave that has emerged from Africa...which has been upgraded to Invest 93-L.

See all four special feature sections for further details on Ernesto...Florence...Tropical Depression Seven...and strong tropical wave Invest 93-L. To have four special feature sections simultaneously by far makes this the most active day in the 2012 Atlantic Hurricane season thus far.

...ATMOSPHERIC FEATURES BIRDSEYE CHART...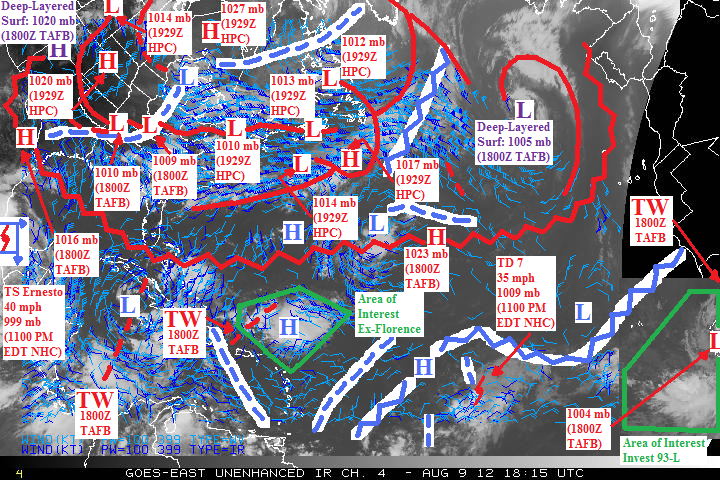 This chart is generated based on surface analysis from the National Hurricane Center TAFB at 1800Z, and the 1929Z-released HPC analysis.

In light blue is upper air analysis, with 200 mb wind barbs calculated by GOES satellite imagery showing the upper-level wind direction. Based on the 200 mb wind barbs, blue-dashed lines are locations of upper troughs, blue-zig-zag lines are locations of upper ridges. Blue Ls are locations of upper lows, blue Hs are locations of upper ridges.

In red is surface analysis, with solid lines indicating locations of surface fronts, dashed lines indicating locations of surface troughs, and zig-zag lines indicating surface ridge axes. Ls indicate surface lows, Hs indicate surface highs.

...THERMODYNAMICS BIRDSEYE CHART...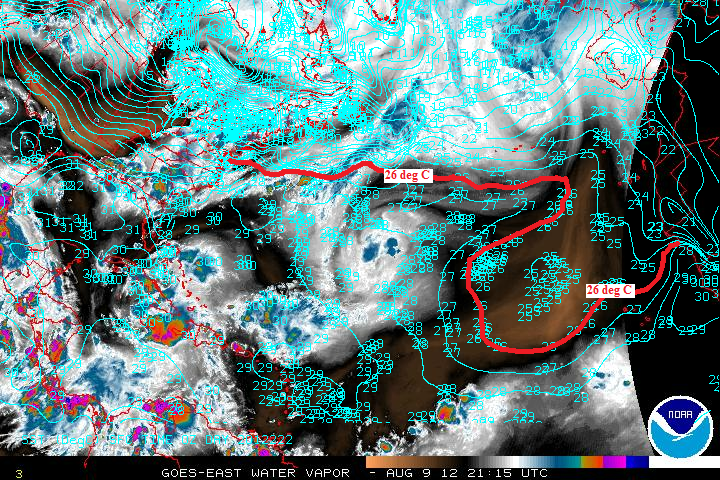 This chart is generated using GOES water vapor satellite imagery. Brown indicates dry air. White, blue, and purple indicates moist air. An increase in moisture indicates slower air parcel lapse rates with elevation and hence an increase toward instability.

Sea-surface temperatures are overlaid with light blue isotherms. The 26 deg C isotherm is highlighted in red. Waters at and south of the 26 deg C isotherm indicate low-level warmth and hence faster environmental lapse rates with elevation (more instability). Waters north of the 26 deg C isotherm indicate slower environmental lapse rates with elevation (less instability).

...SPECIAL FEATURE...TROPICAL DEPRESSION ERNESTO...
Atlantic surface ridge (paragraph P4) has linked with central US surface ridge (paragraph P1) thru bridging together in the Gulf of Mexico. Coupled with the fact that the central US surface ridge is strengthening to the north of Ernesto...this pushed Ernesto southwestward from the Bay of Campeche and into southern Mexico last afternoon. The more southwestward track made the landfall a bit earlier than expected...so Ernesto never re-gained hurricane strength. At 1 AM CDT...Ernesto has been downgraded to a tropical depression. Even though Ernesto is now a dissipating tropical cyclone pushing SW into southern Mexico...its remnant low looks to be a significant inland flood threat as evidenced by tremendously intense t-storm clouds in its large circulation shown by infrared satellite this morning.

As Ernesto is exiting the scope of the above charts and Atlantic region...this will likely be the last discussion of Ernesto on this blog. There is a distinct possibility of Ernesto continuing into the eastern Pacific from southern Mexico...perhaps regenerating into an eastern Pacific tropical cyclone (NHC E-pacific outlook cites 40% chance of this occurring in next 48 hours as of this writing). If this were to occur...I will not be covering its regeneration there.

...SPECIAL FEATURE...REMNANTS OF FLORENCE...
Florence's remnant tropical wave is tracking WNW...currently positioned just north of Puerto Rico and east of the Bahamas. It is still directly under the paragraph P5 tropical upper ridge axis for better upper outflow...and prolonged favorable upper outflow for the next several hours is also possible due to persistent W Atlantic upper ridge mentioned in paragraph P1. In fact...the favorable upper outflow allowed the remnant tropical wave to produce an impressive t-storm cluster last afternoon.

The next obstacle noted for Florence's remnant continues to be southwesterly vertical shear due to mid-ocean upper vorticity (paragraph P3). As of this writing...we are roughly at the 72-hour point in the 200-mb outlook released in discussion #73...and this outlook is important as it showed an aggressive break-up of this upper vorticity that favors Florence's regeneration. I must say...the current 200-mb wind barbs in above atmo chart match fairly well to the cited 200-mb outlook...so I still think Florence has a chance to regenerate.

Computer models show a deep-layered ridge weakness moving into NW Atlantic by 72 and 96 hrs...associated with upper trough and surface frontal activity in paragraph P1. Florence appears north enough to be influenced by the weakness...and the deep-layered nature of the weakness suggests Florence will recurve northward whether she stays shallow/weak or becomes stronger/taller. The timing of the weakness suggests Florence will turn northward such that it passes west of Bermuda and east of the US coast.

...SPECIAL FEATURE...TROPICAL DEPRESSION SEVEN...
Tropical wave Invest 92-L...located east of Florence's remnant and well WSW of the Cape Verde Islands...has strengthened to tropical depression seven during the last 24 hours. Its t-storm driven latent heat release continues to locally inflate the paragraph P5 upper ridge such that the depression exhibits upper anticyclonic outflow. Its thunderstorms continue to be sufficient in keeping out paragraph P4 dry air mass. While all of this suggests potential for strengthening...I am hesitant in my forecast in Figure 1 to suggest much strengthening due to the rapid westward motion this tropical depression is beginning to take. Recently for example...the early phases of Ernesto struggled while it was moving quickly westward...see Ernesto section in recent discussion #72. A quick westward motion of this depression in particular makes it more susceptible to unexpectedly outrunning its t-storm canopy and moving into the paragraph P4 dry air mass that lies just to its northwest.

I actually suggest weakening beginning in 48-hours...due to models suggesting the paragraph P3 upper vorticity will dump in yet another upper vortex that retrogrades southwest into the Caribbean Sea. This upper vortex is expected to be in the east Caribbean Sea by 48 hrs (Sun morning)...central Caribbean by 72 and 96 hrs (Mon and Tue morning)...then western Caribbean by 120 hrs (Wed morning). Looking at Figure 1...the forecast locations of this upper vortex is coincident with the depression's forecast positions...suggesting unfavorable southerly or westerly shear from the upper vortex.



Figure 1: Forecast for tropical depression seven this morning. Interests in the central Lesser Antilles may experience tropical storm conditions as the system passes through late Saturday and on Sunday.

With a hesitance to suggest much development...my track forecasting assumes that this system will be weak/shallow and hence steered by lower-level flow. For the next 120 hours (5-days)...upper trough over the eastern US (paragraph P1) is forecast by models to break up into two upper troughs not strong enough to deflect the W Atlantic upper ridge. Therefore...this upper trough activity will be deflected northward around the upper ridge...and hence any low-level ridge weakness generated by upper trough divergence will be too far north to affect the steering of the tropical cyclone as it stays weak/shallow. Therefore...I predict a straight west track in Figure 1...which is similar to the NHC track shown in Figure 1 but with a southward bias.

...SPECIAL FEATURE...STRONG TROPICAL WAVE INVEST 93-L...
As paragraph P7 in the tropical belt discussion states...a tropical wave that has recently emerged from Africa is doing so with impressive t-storm activity and a low pressure spin. Its t-storm latent heat release has allowed it to establish a favorable upper anticyclonic cell of outflow within the tropical Atlantic upper ridge (paragraph P5 feature)...with an unfavorable Cape Verde upper vortex being pushed westward and away by the upper anticyclone (as stated in paragraphs P2 and P5). With the Cape Verde upper vortex warded off...and with the center of this tropical wave over waters at least 26 deg C...all of this suggests to me that this tropical wave has a high chance of becoming a tropical depression or even a tropical storm later today...passing over the Cape Verde Islands tonight.

If this tropical system gets strong/vertically tall enough...it could bend on a more WNW track in the short-term while feeling the influence of upper-layers of vorticity presently north of the Azores (paragraph P2). This more north track would take it toward increasingly cooler waters and the dry air mass described in paragraph P4...ultimately re-weakening/re-shallowing the system such that it returns on a westward track guided by the low-level Atlantic ridge (paragraph P4 feature). Regardless of strength/vertical depth of this system...a westward track is favored in the long term anyway...all as the upper vorticity north of the Azores de-amplifies...and this system becomes embedded in deep-layered easterlies produced by W Atlantic upper ridge (paragraph P1) and Atlantic surface ridge (paragraph P4).

...MID-LATITUDES DISCUSSION...
P1...Upper trough over central US and central Canada is spreading into eastern areas. Frontal cyclone in waters just W of Greenland has crossed Greenland in last 24 hrs...and left the scope of the above charts. With supportive divergence E of this upper trough...another frontal cyclone is spinning up over the central US and heading toward the eastern Great Lakes. Central US surface ridge is re-building with support of upper convergence on back side of this upper trough regime...as seen with 1027 to 1020 mb centers in upper-left corner of above atmo birdseye chart. Low-level warm air advection ahead of developing cyclone headed toward Great Lakes supports W Atlantic upper ridge...while SW US upper ridge persists behind this upper trough regime.

P2...Surface frontal depression (cyclone) persists north of the Azores at 1005 mb. Large upper vortex remains stacked over the surface cyclone. Whatever vorticity that is not above the 1005 mb cyclone is in the form of a cut-off upper vortex just north of the Cape Verde Islands. Latent heat release from strong tropical wave Invest 93-L is pushing this Cape Verde upper vortex westward as an inverted upper trough embedded in tropical Atlantic upper ridge. See paragraph P5 for further details.

P3...Mid-ocean upper vorticity persists....now featuring a couple of upper vortex centers. One upper vortex is entering the west Caribbean Sea while retrograding SW about W Atlantic upper ridge (paragraph P1). The second upper vortex is located well SE of Newfoundland and well east of Bermuda.

P4...Atlantic surface ridge with a 1023 mb center is supported by a few upper convergent sources while stretching from Gulf of Mexico/SE US to waters offshore of W Europe....including convergence SE of the of west Atlantic upper ridge (paragraphs P1)...and convergence behind NE Atlantic upper deep-layered vortex (paragraph P2). In conjunction with south side of W Atlantic upper ridge (paragraph P1)...south side of this surface ridge is helping to waft Africa desert dry air westward across the Atlantic tropics. However...this dry air has been eradicated across the Caribbean Sea and Gulf of Mexico due to moisture from Ernesto...the remnants of Florence...and moisture produced by interaction of Caribbean upper vortex (paragraph P3) with a tropical wave (paragraph P6). Newly-formed tropical depression seven and strong tropical wave Invest 93-L are helping to reduce this dry air in the eastern tropical Atlantic.

...TROPICAL BELT DISCUSSION...
P5...Upper ridge across Atlantic tropics has been split in half by paragraph P3 upper vorticity retrograding SW into the Caribbean Sea. West half is concentrated over Ernesto...providing great anticyclonic outflow over the storm. East half of this upper ridge is being locally inflamed into cells of upper anticyclonic outflow via t-storm latent heat release from the remnants of Florence...tropical depression seven...and strong tropical wave Invest 93-L...with upper troughs forming between these cells. E Caribbean upper trough has formed to the SW of Ex-Florence upper anticyclonic cell. Inverted upper trough E of the Lesser Antilles is between the anticyclonic cells of Ex-Florence and tropical depression seven. Cape Verde upper vortex in paragraph P3 has transitioned into an inverted upper trough between Invest 93-L and tropical depression seven upper anticyclonic cells.

P6...Eastern Caribbean tropical wave in previous discussion has moved into the central Caribbean. The tropical wave continues interacting with divergent southwesterly flow on SE flank of W Caribbean upper vortex (paragraph P3 feature). This supports t-storm activity in this region. Despite the t-storm activity...no tropical cyclone development is expected due to westerly vertical shear across the south side of this upper vortex.

P7...Satellite imagery shows that the strong tropical wave from Africa in the previous discussion has emerged off the coast with a well-organized surface low pressure spin headed toward the Cape Verde Islands. It has been upgraded to Invest 93-L due to potential for tropical cyclone formation...and therefore is given a special feature section on this blog. See above Invest 93-L special feature section for further details on this situation.
The views of the author are his/her own and do not necessarily represent the position of The Weather Company or its parent, IBM.
Reader Comments
NCHurricane2009 doesn't have a bio yet.
Previous Entries for 2017