MJO, Doldrums & ENSO
By: Skyepony , 5:08 AM GMT on July 25, 2007
The MJO.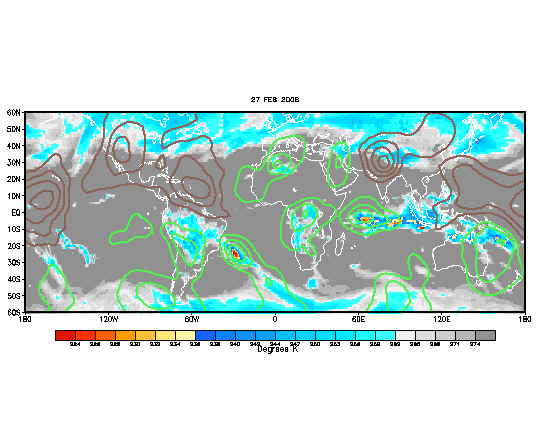 green denotes active MJO areas~ increased rain, enhanced chances of cyclones. The brown is none active supressed areas.

Another view of where it has been up to in graphic form.



On to the doldrums~ The blue shows where the surface wind has been low for atleast 4 days now. This raises SST in those areas.


This is also usually pretty bad for any coral in these areas this time of year.
~~~~~~~~~~~~~~~~~~~~~~~~~~~~~~~~~~~~~~~~~~~~~~~~~~~~~~~~~~~
NHC Tropical Disscusion

Local text Products
Local Forecast Graphics.

Click to make larger



Local Hazards
Wind & Sea....Rip Current.....Fire weather......Lightning.......Severe Hail.....Severe Winds.....Tornados





These will update automatically with conditions.
Credit~NWS More East Central FL Graphical Hazard maps & these full size are available there.
Local NWS Hazardous Weather Outlook


Watching for rain..


click map to go interactive






WED-FRI~ Rain chances 60% day, 30% night. Interior & east coast has the best chance for the afternoon sea breeze storms. Coverage should be good so noone is out of the question. Watch for severe weather. Temps should be about normal for this time of year.

Sat & Sun~ Active rainy period most likely continues.
.



click maps to make bigger

Surfers & Surge
cool wave watch graphic.
NOAA Wave Watch III
Storm surge threat model...Always wondered if or how vulnerable your or friend's place would be to surge? Covers Volusia, Brevard, Indian River, St Lucie & Martin Counties.


Radar/Satellite/Microwave
Melbourne NEXRAD Radar
NOAA Satellite Services ~ I like the RGB by day, rainbow at night with some Water Vapor thrown in once in a while.
Good place to keep up with invests.

Models~
Local Meso Model (well it covers most the state)~ lots of informative blue bars, each a different model, above it to click on too. Forecasts weather for the nexr 24 hrs.
FSU Model page
Shear loop .
Comparing different models shear, steering & percipitation loops.

Click to make maps bigger.

STEERING CURRENTS



HAZARDS



Tropical Depression Probibility



~~~~~~~~~~~~~~~~~~~~~~~~~~~~~~~~~~~~~~~~~~~~~~~~~~~~~~~~~~~



I guess that ULL I was watching was 97L a short time & is now gone. Missed it.

CPAC

06E~COSME gone

EPAC 98E~Dalila 45kts 1000mb~ shouldn't hit land.



WPAC 96W~15kts 1010mb

Southern Hemisphere~ 25kts 1004mb
This is wierd for this time of the year. So much so a pic for the arcives.



~~~~~~~~~~~~~~~~~~~~~~~~~~~~~~~~~~~~~~~~~~~~~~~~~~~~~~~~~~~
Updated July 24th~ weekly is out. Their summary stayed the same reading~ dynamic models call for rapid transition to La Nina where statistical models & recent trends in surface & subsurface tempuratures suggest either a slower evolution to La Nina or the continuation of ENSO neutral conditions.

Regions 1&2 stayed at -1.9, region 3 ended at -.7, 3.4 back up from -.4 to -.2, and region 4 rose from .2 to .3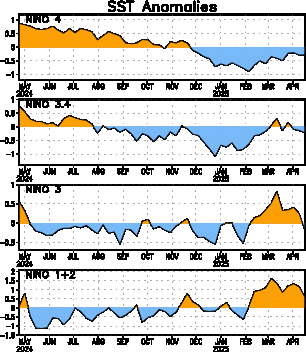 We're still on the cool side of neutral. The fall of ENSO has moderated once again for now.

The cool pool below continues to build, moved some toward the surface as well, but the warm water from the west is fighting back once again. Nature's ebb & flow.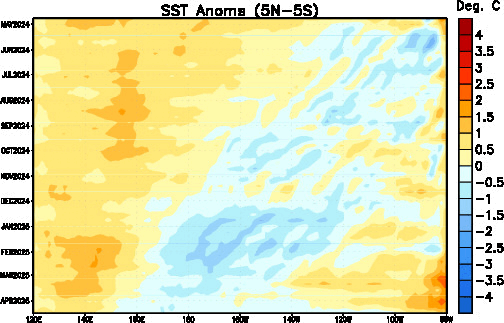 this is a look back over the last year with Aug of 2006 at the top, now at the bottom~ the left the west Pacific, the right the east end of the Pacific, a skinny snap shot of the water stretched across the equator, then stacked though time. We looked due for a little moderation.


ESPI fell from -1.11 to -1.21 for the last weeks for the last 30 days. The moderation I called for has happened, the next week or 2 should bring near the same or slightly cooler. Make it to La Nina condition? Maybe in the next drop. Probibly not in the next 2 weeks.
~~~~~~~~~~~~~~~~~~~~~~~~~~~~~~~~~~~~~~~~~~~~~~~~~~~~~~~~~~



~~~~~~~~~~~~~~~~~~~~~~~~~~~~~~~~~~~~~~~~~~~~~~~~~~~~~~~~~~~


Create your own visitor map!

The views of the author are his/her own and do not necessarily represent the position of The Weather Company or its parent, IBM.
Reader Comments
Skyepony's WunderBlog
Previous Entries for 2017