Tropical Outlook: TD8-E
Acronym Key:
SAL: Saharan Air Layer
LLC: Low Level Circulation
EPAC: Eastern Pacific Ocean
EATL: Eastern Atlantic Ocean
MCP: Minimum Central Pressure
CDO: Central Dense Overcast
GOM: Gulf of Mexico
NHC: National Hurricane Center
UKMET: United Kingdom Met Office Model
NOGAPS: Navy Operational Global Prediction System
CMC: Environment Canada Global Environmental Multiscale Model
ECMWF: The European Centre for Medium-Range Weather Forecast's Global Model
GFS: Global Forecasting System
ITCZ: Inter-Tropical Convergence Zone
COC: Center of Circulation
AOI: Area of Interest


Good Afternoon Everyone!

TD07: Just as the computer models hinted at, and what I forecasted in my blog yesterday, TD07 has degenerated into an open wave. It happened a little bit quicker than I first thought, but it happened nonetheless. Some of the factors contributing to this degeneration where the trade winds, dry air, and wind shear. Throughout the early morning hours the LLC became very elongated and the northern part of the storm was receiving a fair amount of wind shear. The Hurricane Hunters went in to investigate whether or not there was a closed circulation even present. After a few hours none was found, and the NHC declassified the system. Regeneration is possible if it makes it to the Western Caribbean.



This wind shear is one of the culprits to the degeneration of TD07.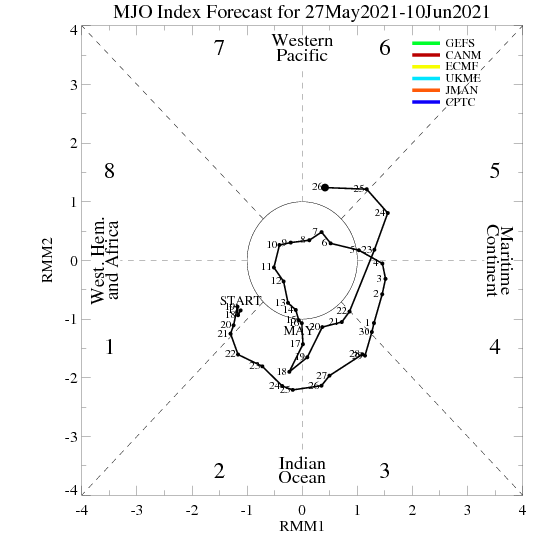 The MJO is forecasted to come back into our area. This could aid in the regeneration of TD07 or 93L. The full onset of the MJO won't be felt for another few days.

93L: 93L is also very close to pushin' up daisies. The dry saharan air has really taken its toll on the system and now there is no convection associated with 93L at all. Over the last day or two the models have lost excitement for this system. Some models develop it slowly into a weak TS and some have even dropped the idea of development all together. We will have to continue to watch it for further development in the long run could be possible, but not likely.



93L is just an open area of circulation with no convection at all.

Atlantic Tropical Outlook: There are a couple of weak waves that will be coming off the coast of Africa within the next few days. GFS has been rather bullish with the Cape Verde "wave train", and it has been developing most storms that come off of Africa. At this point I don't see any immediate development of any other system besides the possible regeneration of TD07, and 93L. We have to be careful about storms that pop up close to home because the current pattern favors something popping up and quickly moving inland.

EPAC: Ernesto is back from the dead in the EPAC. Earlier today the NHC found enough evidence to classify this AOI as TD8-E. Speedy development is not likely with this system for it will be encountering quite a bit of shear. Currently, the overall structure of the system is rather impressive and will perhaps become a TS within the next day or two. Some models want to take TD8-E out to sea and a couple of others including the CMC take the system up and into Baja California as a weak hurricane, possibly Cat 1. We will continue to watch it as it will be the only system that we will be tracking for the next couple of days.



TD8-E otherwise known as the remnants of Ernesto continue to develop in the EPAC.


Thanks everyone for reading!
Also, these forecasts do not reflect the OFFICIAL forecasts from the NHC; please consult the NHC for official public forecast on all active Tropical Cyclones.
~Matt~
The views of the author are his/her own and do not necessarily represent the position of The Weather Company or its parent, IBM.
Reader Comments
Tropics
Previous Entries for 2017