TRACKING HURRICANE IRENE:
Hey everyone,

As was the case during previous hurricane (H) seasons, I am once again posting a blog entry that contains the majority of weather links and pertinent data that I typically use myself-for the purpose of TC forecasting. It is not an all exclusive list, but one that I feel will best serve those who take the time to read/use this particular blog entry.

As many of you already know, I just simply haven't had the time to blog here as consistently as I once did. That being said, I will make an asserted effort to post occasionally (as time permits) when the U.S. coastline is threatened by a significant TC event. In the meantime, I want to wish each one of you the very best and hope you have a great rest of the weekend.:)

Most sincerely,
Tony

P.S. Any and all prospective forecasts I make will be contained in the comment section of this particular blog.

American Red Cross "Hurricane" Preparedness Website.

SPECIAL SECTION: MOST SIGNIFICANT THREAT TO LAND AREAS (ATLANTIC BASIN):




The above "image" is the latest Infrared (IR) Satellite Image of H Irene (Courtesy of SSD/NOAA).




The above "image" is the latest "Visible" Satellite Image of H Irene.




NHC Advisories and Forecast Discussions:

Latest NHC Public Advisory.

Latest NHC Forecast Discussion.

Latest HPC "Extended" Forecast Discussion.

Latest RECON and Buoy Observations:

Latest NOAA Recon "Vortex" Data message

"Live" Recon Data Decoder (Courtesy of "Tropical Atlantic").

Latest Buoy and Ship Observations (Courtesy of NDBC)




The above image contains the 120 hour forecast tracks of the major global computer models-courtesy of WU. If this image doesn't update automatically at 6 hour intervals, you can access the updated and most recent graphic here.

Latest NWS Local Hurricane Statements:

Note: I removed the Puerto Rico "local hurricane statement" (LHS) link, since hurricane Irene has moved well away from the Island. That being said, I will continue to modify this blog accordingly, as additional LHS' are warranted for other threatened localities.

SPECIAL STORM EVENT PRODUCTS FOR MOST THREATENED LOCALITIES:

This section was last updated at 1:55 am EDT on 8/23/11.

Local Radars:

Note: I have removed the local radar links for the Islands of Martinique and Puerto Rico, since "Irene" has moved well out of radar range of those two respective locations. As soon as H Irene moves within radar range of other local radar sites, I will post those links accordingly.

Area Webcams:

Note: I have removed the webcam links for the NE Carribean Islands that got battered by TS Irene. That being said, I will also update this section as well, as soon as I am able to do so.




The above "image" is the latest "water vapor" satellite image of the entire North Atlantic Basin. See links below (in next section) to view the current WV "loop".

H IRENE SATELLITE LOOPS (Courtesy of SSD/NOAA):

A) Latest "Visible" Satellite Loop
B) Latest "Infrared" Satellite Loop
C) Latest "Water Vapor" Satellite Loop
D) Latest "Dvorak IR" Satellite Loop
E) Latest Close-Up "Water Vapor" Satellite Loop

SECTION #1: TROPICAL CYCLOGENESIS FORECASTS/ANALYSIS:

WHAT TO LOOK FOR IN IDENTIFYING A TC.




TROPICAL WEATHER OUTLOOK "TEXT" (NHC)

TROPICAL WEATHER DISCUSSION (NHC)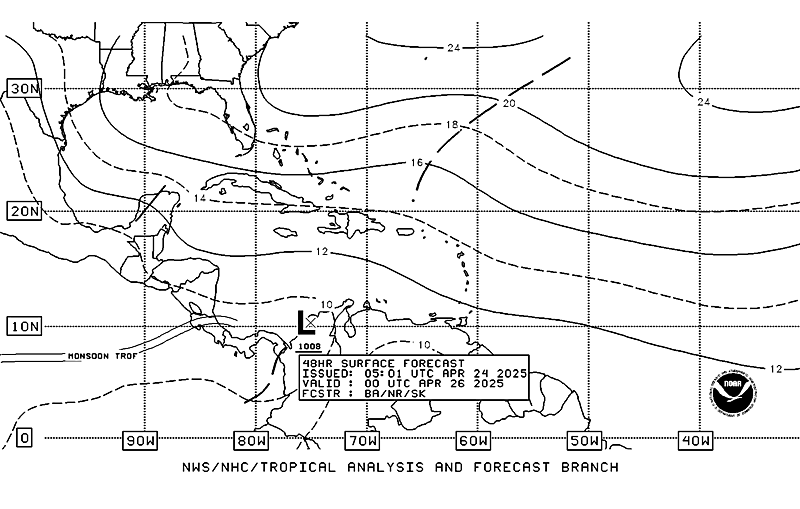 The Above Graphic is the 48 hour Forecasted "Surface" map for the Atlantic Basin (courtesy of NHC).

OPC "Current" Atlantic Basin Surface Analysis




The latest "Wide View" Satellite Image of the Atlantic Basin (Courtesy of SSD/NOAA). Also, here is the latest "Visible" Satellite Loop as well.

The latest Satellite Loops can be found here (It is best to use the respective "Floaters" for analyzing specific invests and/or TC's).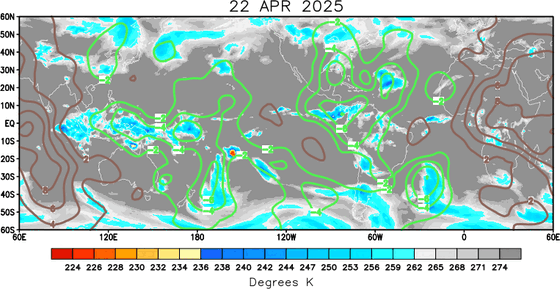 This image shows the latest IR 200 MB Velocity Potential Anomalies. Here is the link to other "MJO" resources courtesy of the CPC.

RAMMB "Real Time" Storm Data

Navy (NRL) Tropical Page

The Latest "Quickscat" Satellite Data.

Latest Dvorak Intensity Estimates (Courtesy of Satellite Services Division)

Latest ADT (Advanced Dvorak Technique) Estimate (Courtesy of CIMSS)

TC Phase Analysis (Courtesy of FSU).

MIMIC (Microwave Satellite Imagery) Courtesy of CIMSS




This is the latest Map designating "favorable" areas for TC development in the Atlantic Basin (Courtesy of PSU). Also, here is the link to PSU Tropical Weather Page that also includes the GFS "Long Range Model" forecasts, etc.

SECTION #2: THE LATEST COMPUTER FORECAST MODEL TRACK GUIDANCE:

Latest Major Global Computer Model Track Guidance (Courtesy of FSU).

South Florida Water Management District (SFWMD) Model graphics

Latest NHC TC Model Output Graphics (Track and Intensity forecasts) Courtesy of FSU.

TC Track and Intensity Model Plots (Courtesy of MIT)

Raleighwx Global Model Page (Courtesy of A. Huffman/Americanwx).

The "Weather Underground" Tropical Weather Page (includes excellent computer model graphics for respective TC's, etc.)

TC Model Guidance Courtesy of CSU.

SECTION #3: ENVIRONMENTAL/ATMOSPHERIC CONDITIONS (ATLANTIC BASIN):

A) Wind Shear/Upper Level Wind Maps:




The above "wind shear" map displays current conditions (Courtesy of "CIMSS)

NOAA SSD "Current" Wind Shear Map

GFS 72 Hour Wind Shear Forecast (Courtesy of WU)

NAVY Wind Shear Forecasts For the NOGAPS and GFS Models.

Saharan Air Layer Map (Courtesy of CIMSS)

TC Mean Steering Layer Maps (courtesy of CIMSS)

Upper Level Conditions (includes UL winds, vorticity, divergence, convergence, wind shear, etc. all courtesy of CIMSS)

OPC 500 MB Forecast Maps

Unisey's UL Wind Data

B) Sea Surface Temperatures: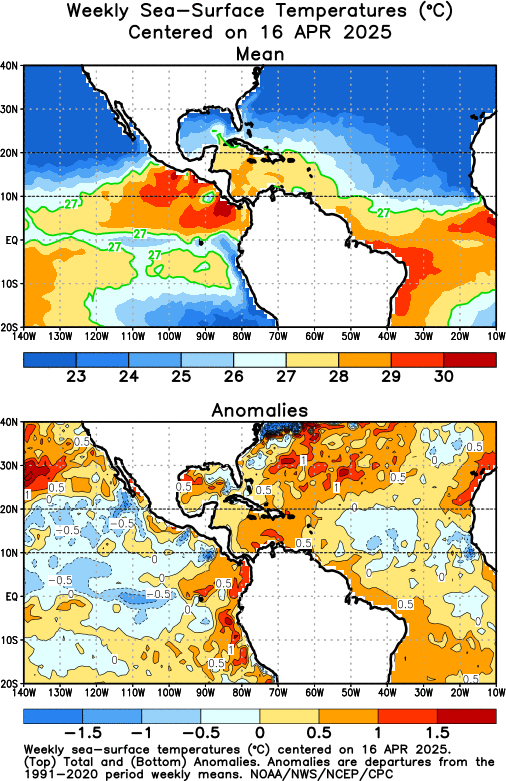 The two images displayed above reflect the SST's and SST anomalies for the Atlantic Basin through the past week. (Courtesy of the CPC).




This is the "latest" NOAA TC Heat Potential (TCHP) Map. Also, here is the link to other important SST data from the same site.

NOAA SST MAP


The views of the author are his/her own and do not necessarily represent the position of The Weather Company or its parent, IBM.
Reader Comments
Comments will take a few seconds to appear.
ncforecaster's WunderBlog
About ncforecaster
Recent Posts
Local Weather
80 °F

Mostly Cloudy
Previous Entries for 2017